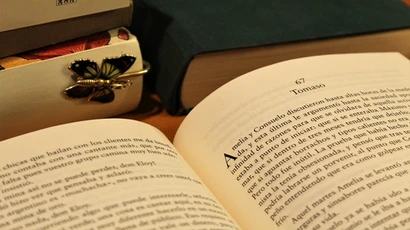 Spanish: Adolescence Education Program at Fredonia
Fredonia's Spanish Adolescence Program allows you to combine two of your passions; your love of the Spanish language and culture, and your ambition to shape and develop young minds. Fredonia will help future Spanish teachers develop the ideas and practices that will make them effective in the classrooms of an increasingly complex and diverse society.
The Fredonia Difference
Fredonia's Adolescence Education program in Spanish is one of the few in the nation to have achieved National Recognition status through the American Council on the Teaching of Foreign Languages (ACTFL). Fredonia's College of Education is a member in good standing of the Association for Advancing Quality in Educator Preparation (AAQEP), a nationally recognized accrediting body approved by New York State Education Department. Fredonia has dedicated, enthusiastic and rigorous faculty who offer a variety of exciting courses in literature, linguistics, film, translation and cultural issues. We have several abroad programs in different countries as well as access to a multitude of programs through the SUNY system.
Career Opportunities for Spanish: Adolescence Education
Spanish middle school teacher
Spanish high school teacher
Why Spanish Adolescence Education at Fredonia?
Accreditation
We impart you with the knowledge and skills to support the development of all students.
Sample Courses
EDU 349 Educational Psychology
Areas of psychology utilized in the teaching and learning processes. Analyzing and interpreting scientific data related to individual differences, growth, learning, group processes, systematic assessment, measurement, and evaluation.
EDU 419 Secondary School (Adolescence) Methods
Principles, materials, and methods for teaching English, foreign languages, mathematics, science, or social studies in the secondary school. Assignment to sections according to subject matter.
EDU 304 Safe Schools & Healthy Students
The course provides mandated information and instruction regarding school violence prevention and intervention, regarding child abuse detection and reporting, child abduction prevention, and regarding alcohol, tobacco, drug abuse prevention at the local, state, and federal levels of education and the law. The course also examines the role of the classroom teacher in all such reporting and prevention efforts.
Program Additional Links
What does a 4-year degree look like?
What are all the required and elective courses offered to obtain this degree?