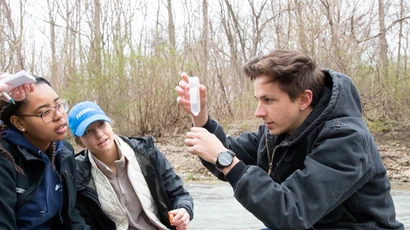 Geology & Environmental Sciences
Welcome to the Department of Geology & Environmental Sciences!
Our department includes programs focused on the Earth, its processes and the impact we have on the Earth system, including geology, environmental sciences, geochemistry, geographic information systems (GIS), environmental studies, climate and weather, and even the study of other planets. Our introductory and upper-division courses cover a wide array of these exciting topics and encourage students to better understand the world around them.
Fredonia offers these degree programs in the Department of Geology and Environmental Sciences:
The Environmental Sciences B.S. (ESCI) major integrates the strengths of programs in Biology, Chemistry, and Geosciences to understand the Earth ecosystem as a whole. Somewhat unique to our program, students are also required to take at least one course in GIS, which provides an extremely useful tool for visualizing data. The Environmental Studies (ENVS) minor provides students with a broad interdisciplinary perspective on the relationship between humans and the natural world. Drawing equally on insights from the natural sciences, humanities, and social sciences, the program prepares students to address key environmental and social challenges of the 21st Century.
Geologists and Environmental Scientists are employed in a variety of settings, including environmental consulting, natural resource management, petroleum and base-metal exploration, civil engineering, information science, urban and regional planning, and other areas. Opportunities also exist in education and with government agencies. Opportunities for employment in the Earth Sciences has never been better, given current economic and environmental realities.
Join us... the more you know about Earth & understand its processes, the better equipped you are to save it. 
Start here, at Fredonia's Department of Geology & Environmental Sciences!