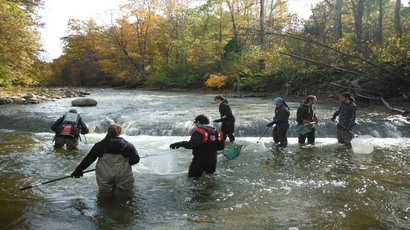 Environmental Sciences Program at Fredonia
Environmental Science at Fredonia incorporates the strengths of Fredonia's outstanding programs in Biology, Chemistry, and Geosciences to understand the Earth ecosystem as a whole. The program emphasizes field experiences where students collect environmental samples, analyze them, and produce comprehensive interpretations of the data. Students demonstrate their ability to conduct independent work in the environmental sciences through internships with local conservation departments, consulting firms or municipalities, or through research with a faculty member.
The Fredonia Difference
Advantages of the Fredonia program include many opportunities for student research, a program that focuses on experiential learning, and a wide variety of career choices. Fredonia's location within the western corner of New York State provides unique water resources (e.g., the Great Lakes), soil and mineral characteristics (stemming from our shale bedrock), and atmospheric phenomena for students' research.
Career Opportunities for Environmental Sciences
Consulting
Resource management
Conservation scientist
Aquatic and fishery research/management
Wildlife management
Conservation officer
Environmental and community planning
Versatility
Fredonia's program is interdisciplinary and focuses on experiential learning
Location
Fredonia's geographic location offers unique opportunities to study Environmental Sciences
Timing
The time is now: opportunities for employment in the environmental sciences has never been better, given current economic and environmental realities.
Sample Courses
ESCI 105 Global Environmental Issues
The course's objective is to increase student awareness of the environmental issues that affect different parts of the world and the planet as a whole. The course will explore the historical roots of the problems and how different societies deal with environmental degradation. Topics will include overpopulation, food production, water scarcity, pollution and global climate change, among others.
ESCI 310: Methods in Environmental Analysis
Students will learn key methods in laboratory and field methods for analysis of environmental samples. In this combined lecture and laboratory course, students will perform field collections for water, soil, and air samples, conduct contaminant experiments, develop technical writing skills, and gain experience with various analytical instruments related to environmental samples.
ESCI 410: Environmental Assessment
Introduction to concepts involved in risk assessment and how they are applied to formulating a human or ecological risk assessment. Modern methods and models describing environmental risk assessment strategies will be emphasized. Topics will include fate and transport processes of pollutants in the environment, data evaluation, air and water quality, human health risk assessment, ecological risk assessment, and hazardous waste remediation. Case studies will be drawn from the contemporary literature and students will formulate a risk assessment as part of a team.
Program Additional Links
What does a 4-year degree look like?
Environmental Sciences at Fredonia