Communication Program at Fredonia
Effective communication is essential for innovation, progress, and success, and is at the core of every career opportunity. At Fredonia, you'll perform research, study theory, practice critical analysis, and acquire skills in a variety of personal, public, and professional contexts. Coursework in Communication Studies focuses on communication as social interaction within interpersonal, intercultural, group decision making, public presentation, political, and organizational settings.
The Fredonia Difference
Fredonia's Department of Communication strives to foster an understanding of the role, process, and practice of communication through teaching, research, creative work, and service. Communications Studies is a multidisciplinary field, drawing on ancient and modern rhetoric, social sciences, aesthetic theory and technique, cultural studies, and other perspectives. Upper-level capstone projects will prepare you for the real world by developing a portfolio to present to potential employers.
Career Opportunities for Communication
Media analyst
Public relations
Lobbyist
Speechwriter
Fundraiser
Researcher
30+
Mac workstations
in our two state-of-the-art multimedia labs
450
Study Abroad opportunities
Fredonia students have experienced 58 different countries through study abroad.
7
communication clubs and organizations
Groups include Applied Communication Association, Lambda Pi Eta (honor society), Public Relations Student Society of America, and several campus media outlets.
Why Communication Studies at Fredonia?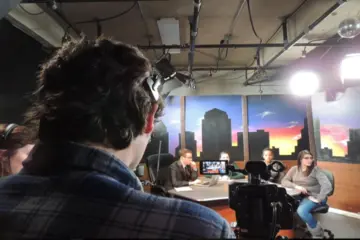 Student-run media
Fredonia has two student-run radio stations and a student-run television station. You can get involved your first semester on campus.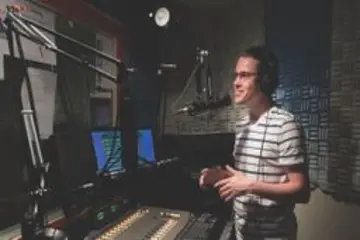 Hands-on experience
Get involved with one of our media organizations, like the campus TV station, radio station, or newspaper, all run by students.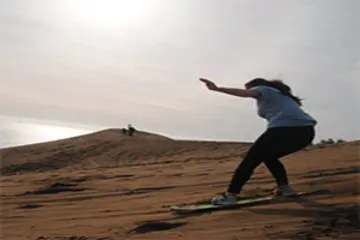 See the world
Communications majors have studied abroad in England, Italy, Australia, Ireland, and many other countries.
Sample Courses
COMM 373 Gender and Communication
Using a variety of theoretical models and critical approaches, students examine everyday communication practices to identify how gender, communication and culture create a complex and dynamic web of meaning with significant implications for individuals and society.
COMM 379 Persuasion
Examination of a wide body of humanistic, and social scientific literature concerning persuasion and persuasive techniques. Emphasizes evaluation and potential application of persuasion theory in communicative transactions.
COMM 465 Intercultural Communication
The course focuses on assisting students in interacting effectively and appropriately with people from various cultural backgrounds and on understanding dimensions of intercultural communication related to domestic and international contexts.
Program Additional Links
What does a 4-year degree look like?
What are all the required and elective courses offered to obtain this degree?