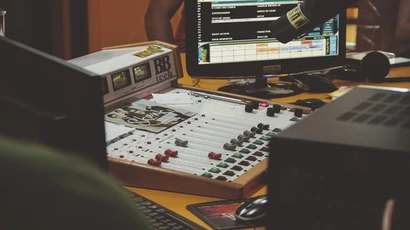 Audio Production Program at Fredonia
Fredonia's Audio Production program prepares you for a career in a variety of digital media fields, including radio, music, television, and live productions. You will develop critical skills to understand sound and use audio principles and techniques in a variety of applications, including recording, writing for the ear, announcing, interviewing, sound design for television and theatre, Internet applications, and radio production and programming.
The Fredonia Difference
Fredonia has award-winning outlets to practice what you have learned in classroom and lab settings. Fredonia Radio Systems has been named the "Best College Station in the Nation" two years in a row by the Intercollegiate Broadcasting System. Several on-air staff members and managers have also received national individual awards in recent years.
Career Opportunities for Audio Production
Audio engineer
Concert tour manager
Radio board operator
On-air personality
Production/Programming director
Theater tech director
7
communication clubs and organizations
Groups include Applied Communication Association, Lambda Pi Eta (honor society), Public Relations Student Society of America, and several campus media outlets.
Real productions
Your classwork will be delivered to a worldwide audience through Fredonia Radio Systems, the campus radio stations.
Award-winning faculty
You will learn from award-winning professionals who serve as full-time and adjunct faculty.
Why Audio Production at Fredonia?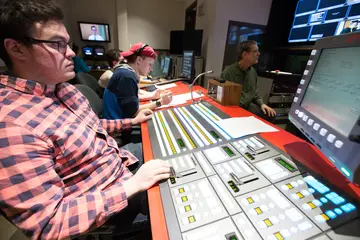 Facilities
Three multi-track control rooms, one stereo control room, one voice-over booth, and one large studio; a variety of sound processing equipment; three editing suites featuring Adobe Creative Suite and ProTools software.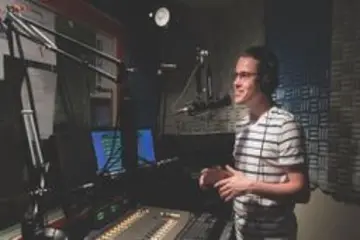 Student-run media
Fredonia has two student-run radio stations and a student-run television station. You can get involved your first semester on campus.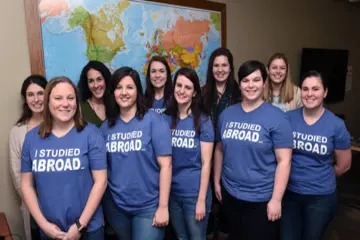 Travel
Communications majors have studied abroad in England, Italy, Australia, Ireland, and many other countries.
Sample Courses
COMM 312 Multimedia Integration
Course concentrates on authoring multimedia projects which integrate graphics, animation, digital video, and audio. It combines both multimedia theory and production. Students will learn how to structure information, anticipate user experience and create transparent interfaces.
COMM 395 Radio News and Podcasting
Theory and practice of radio journalism including writing and reporting news and journalism law and ethics. Students produce weekly radio newscasts and podcasts.
COMM 466 Sound Design
Students will study the technical and creative audio components needed to create the audio elements for mass media projects, focusing on audio production for video projects. The class will use several softwares including Pro Tools, Final Cut Pro, and SoundTrack Pro, and Quicktime movies in the audio projects.
Program Additional Links
What does a 4-year degree look like?
What are all the required and elective courses offered to obtain this degree?