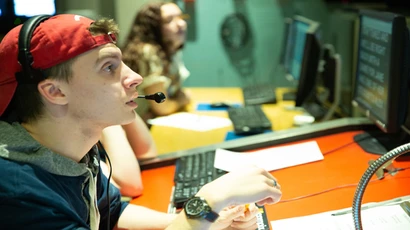 Digital Film Production Program at Fredonia
This major allows students to learn the skills necessary to write, produce and distribute media messages via television and film. There are many opportunities for hands-on learning with courses in multi-camera, field and post-production, both inside the studio and on location. Upper-level students participate in a video drama production capstone project, while television studio majors produce a season's worth of news and talk/variety shows.
The Fredonia Difference
Fredonia's digital film production courses are taught by professionals with decades of experience at the local, regional, and national levels. The faculty has won national film production and broadcast television awards, and worked on some of the world's biggest stages. Their experience will be your guide as you develop your skills and talents to create memorial projects and build a meaningful digital film or video portfolio.
Career Opportunities for Digital Film Production
Camera operator
Studio crewmember TV/film
Film/video editors
Producer/directors
Digital film producer
30+
Mac workstations
available in two state-of-the-art multimedia labs
WNYF-TV
Fredonia's award-winning student-run television broadcasts to campus and surrounding community and allows you to apply your skills and gain experience
Internships
Get real-world experience and feedback. Obtain your degree and build a resume reel at the same time!
"At Fredonia, I learned how to dive into difficult challenges head on, despite what
fears I may have. Fredonia helped build my confidence in my craft."
Erika is seeing the world as a Story Producer for National Geographic
Erica Wrobel
B.S. Communication: Video Production
Class of 2013
Why Digital Film Production at Fredonia?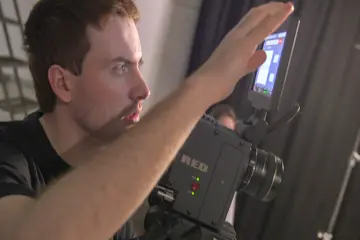 Facilities
Houses digital film design and production facilities including a large sound stage for single camera productions and four editing suites for advanced students.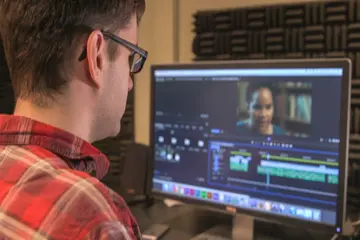 Hands-on learning
Courses in multi-camera, field and post-production, and digital applications.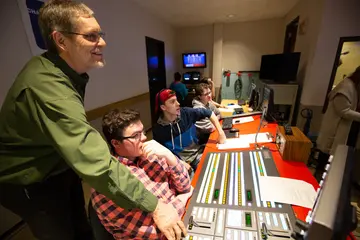 Award-winning faculty
You will learn the secrets from professionals who have achieved great success in the industry.
Sample Courses
COMM 254 Video Field Production
Basic skills and techniques for shooting video outside the studio in ENG and EFP configurations, and for editing on non-linear video editing systems, camera lighting, sound and editing skills applicable to news, commercials, documentary, narrative, and art of music video.
COMM 368 Video Camera and Lighting Techniques
A course that covers knowledge, methods and techniques essential to the work of a director of photography. Covers concepts of directing the camera, visual techniques, compositional methods and technical aspects of videography and lighting.
COMM 358 Television News
Electronic news gathering and studio news techniques in the context of a weekly news program. Legal and ethical issues in news gathering.
Program Additional Links
What does a 4-year degree look like?
What are all the required and elective courses offered to obtain this degree?