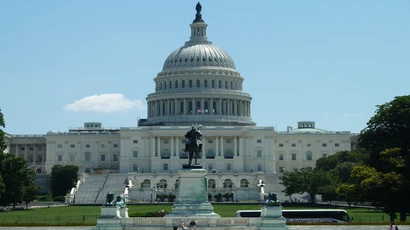 Political Science Program at Fredonia
The Department of Politics and International Affairs prepares our majors as informed citizens, policymakers, analysts, and leaders across the state, nation, and world. Graduates find success in politics and policy, governmental and non-governmental organizations, in fields such as law, business, and media, to name a few. Many alumni are admitted to highly regarded programs in graduate, policy, business, or law schools.
The Fredonia Difference
Politics and International Affairs provides for diverse learning activities in line with student interests and career possibilities. Students engage in short-term or semester-long study abroad for academic credit. Internships are available for credit at the local to the federal level, with funding support for internship programs in Albany and Washington D.C. Many students actively participate in Model European Union—in NYC and in Brussels, join Fredonia's continued success in Mock Trial competition, as well as campus leadership. We complement diverse disciplines while enhancing career possibilities.
Career Opportunities for Political Science
Governmental & public affairs
Public policy & analysis
Campaign strategist & management
Media affairs & public information
Urban planning & development
Non-governmental organization
Public & private law
66%
Awards
For outstanding student award funds, two-thirds of majors are double majors in areas such as business, history, education, psychology, criminal justice, and communication.
$1000
Scholarships
Minimum scholarship funding available for qualified majors participating in the Washington internship semester program. Fredonia helps you gain valuable experience.
100%
Program placement
BA/MPA Fredonia/Rockefeller College program placement in job or graduate study within one year of the MPA. Fredonia provides the pathways to future success.
Why Politics and International Affairs at Fredonia?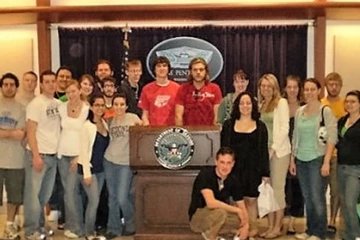 Experience
Between internships and study abroad, students gain important experience while actively learning about Politics and International Affairs.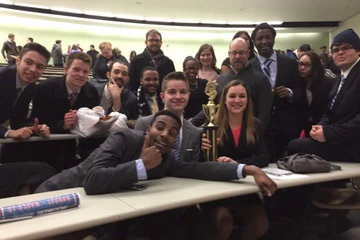 Preparation
Students are encouraged to participate in hands-on simulation activities and competition as part of Fredonia's highly successful mock trial team, or serve as campus delegates and negotiators with students abroad in Model European Union.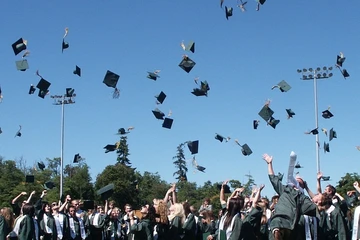 Opportunities
Students can streamline their career pathway in policy and analysis through our BA/MPA partnership with the Rockefeller College of Public Affairs and Policy, or benefit from our alumni scholarship funds for law school.
Sample Courses
POLI 120 Politics in American Life
An introduction to how important issues impact and involve us through governmental and political processes, constitutional questions and policy debates, traditional and new media dynamics, as voters and citizens in a representative democracy.
POLI 371 Civil Rights and Liberties
This course explores historical and evolving notions of freedoms and equality in a changing American society, court and political challenges in constitutional interpretation and application across states, the oft-contentious legal, societal and policy debates, as well as trade-offs on critical decisions affecting our own rights and liberties.
POLI 356 US Foreign Policy
This course provides an exploration of the United States' historical and changing role in international affairs across national security, war, peace and economic relations, and how foreign policy decisions and actions relate to longstanding, current and emerging concerns both domestically and abroad.
Program Additional Links
What does a 4-year degree look like?
What are all the required and elective courses offered to obtain this degree?