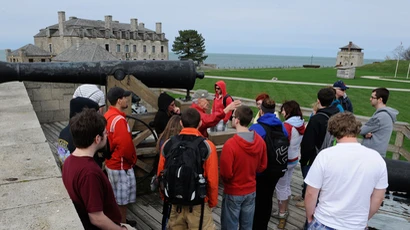 Politics and International Affairs
Politics and International Affairs at Fredonia is a liberal arts discipline designed to prepare students as informed citizens and leaders in contemporary society. Fredonia graduates hold responsible positions at federal, state and local levels of government, as well as with businesses and corporations. Many of our alumni continue their studies in graduate or law school.
The faculty offer a wide array of courses and specialization across American politics, comparative politics, international relations, public law and political theory. Areas of specialization include U.S. foreign policy, Latin American politics, European politics, media and politics, constitutional law, elections, Congress, the presidency, public administration, and many other areas. Students are also encouraged to explore how social science knowledge is gathered and evaluated throughout the program and in a capstone project.
We encourage students to apply their learning in the real world. Students have the chance to participate in study abroad programs, both for full semesters, or for shorter trips of two or three weeks. Some students elect to spend semesters in Albany with state political issues, or in the Washington D.C. semester program on federal issues. Others participate in a state-wide simulation of the Model European Union, or with SUNY Fredonia's team entry to the American Mock TrialAssociation program. Still others take internship positions with local and state government offices. New students will find an active student body. The Political Science Association meets nearly every week. Many students are active with politically oriented groups, in the community, and with political campaigns and offices.                                                                                                                                                             
 

Students at a Mock Trial Competition

 

Students studying abroad in Brazil
The department's mission is to provide instruction on the foundations, institutions, processes and methods of politics and government from the individual to the global level of understanding and application. The department offers a curriculum of core courses, concentration in American Politics, Law and Politics and World Politics and a capstone experience in order to provide for depth and breadth of knowledge, critical thinking, theoretical and empirical comprehension, analytical, written and communication skills. Through diverse learning opportunities, our students are prepared for graduate and professional programs of study, careers in a wide range of related fields, and as informed and engaged citizens.
Programs
Bachelor of Arts in Politics and International Affairs
BA/MPA program 
The BA/MPA program is an agreement between the State University of New York at Fredonia and the Rockefeller College of Public Affairs and Policy at the University at Albany.