Polisci Scholarships & Awards
The Department of Politics and International Affairs makes a number of awards to our students each year. These are funded principally by alumni and former faculty. The Spring awards ceremony celebrates achievements of our students and our donors.
The J. Murdoch and Erna G. Dawley Award is presented to the outstanding graduating Senior in Politics and International Affairs.
The Dawley award was endowed and named in honor of one of the founders and long time Professors in the department, the late Professor J. Murdoch Dawley, J.D., Ph.D., and his wife, Erna Dawley. His students will long remember him.
The J. R. Soukup Award is given in the spring to the outstanding Junior in the department.
The J. R. Soukup Scholarship is given to the outstanding first year entering Politics and International Affairs major.
The Pi Sigma Alpha Scholarship is awarded to a graduating Political Science major pursuing a career in private or public community service.
The above three awards were endowed and named in honor of Professor Emeritus James R. Soukup, Ph.D. Professor Soukup was an authority on East Asian politics, and was Chair of the Department from 1970 until 1975. He retired in 1991 and now lives in Harriman, Tennessee.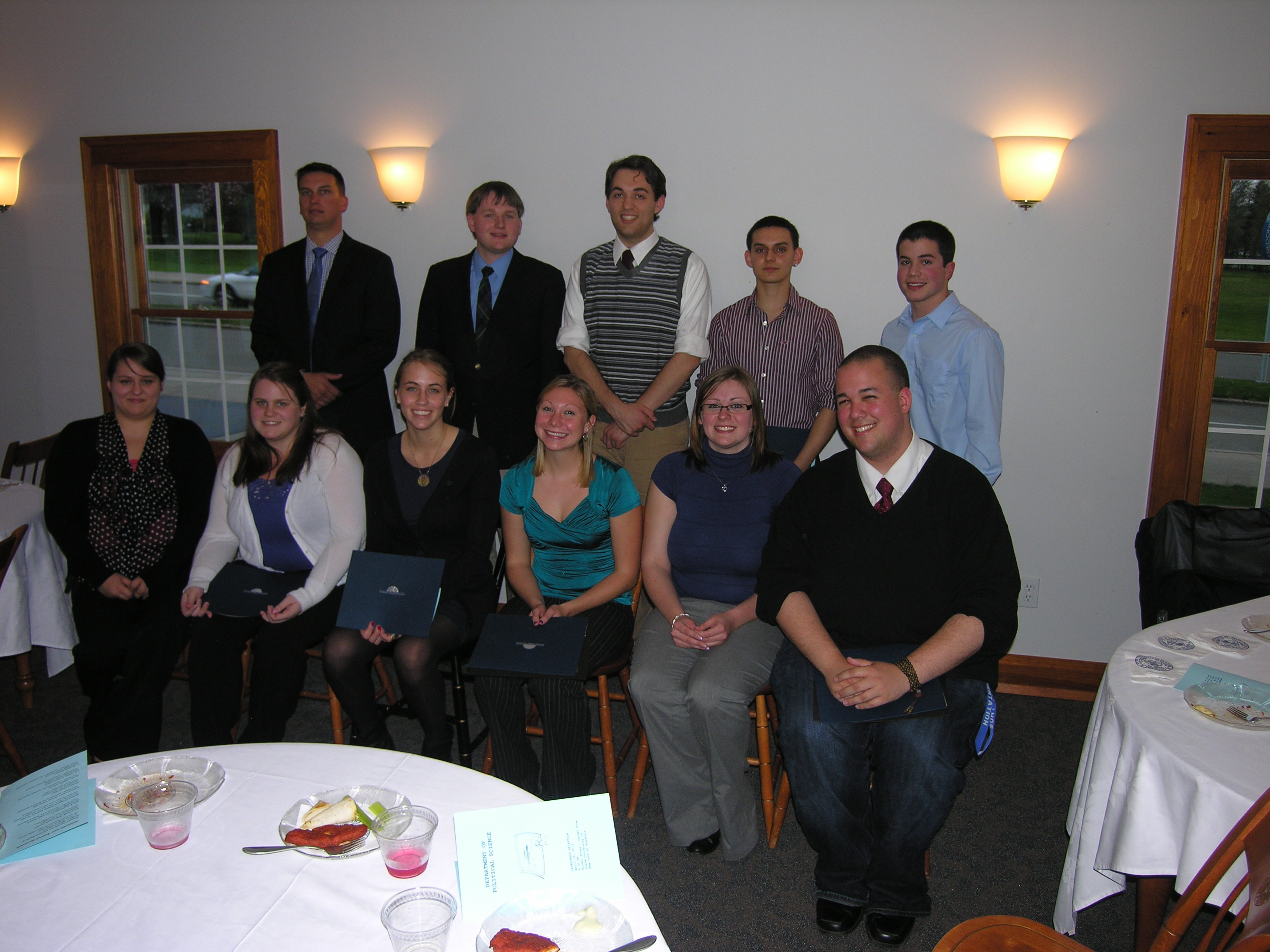 The Dr. James Hurtgen Endowment Award is given to support student semester internships in Washington D.C. The typical award is $1000.
Dr. James Hurtgen, Ph.D., is Professor Emeritus, and specializes in political theory. He was a Distinguished Teaching Professor, Department Chair, and Interim Dean.
The John R. Quatroche, Jr. Award is given annually to an outstanding Political Science student who demonstrates a very high level of involvement in extra curricula affairs, campus service and leadership.
The award was endowed by Drs. J. Robert and Diana J. (Frost) Quatroche (classes of 1963 and 1962 respectively)and named in honor of their son, the late John R. Quatroche, Jr.
Michael J. Livingston Memorial Scholarship is awarded to outstanding Political Science majors.
Mr. Livingston was a 1989 graduate of State University of New York at Fredonia, originally from the Buffalo, N.Y., area. Immediately after his death in December 2005, Mike's friends rallied around to create this living memorial, with Raymond (Ray) Komar and Martin (Marty) Gilano in the lead.
Morgan Dowd Pre-Law Fund Award is given by Political Science department, with preference to students interested in law
Dr. Morgan Dowd was a Distinguished Service Professor; SUNY faculty member from 1963-1998. He served as the Dean for Graduate Studies and Research; Dean for Natural and Social Sciences; and as a faculty member in the Department of Political Science.
The Fredonia Alumni Lawyers Scholarship is presented to the outstanding graduating senior who is planning for a career in law.
This award is generously funded by lawyers who are alumni of the Politics and International Affairs Department.
The Political Science Alumni Scholarhip is presented to outstanding students.
This award is generously funded by alumni of the Poltics and International Affairs Department.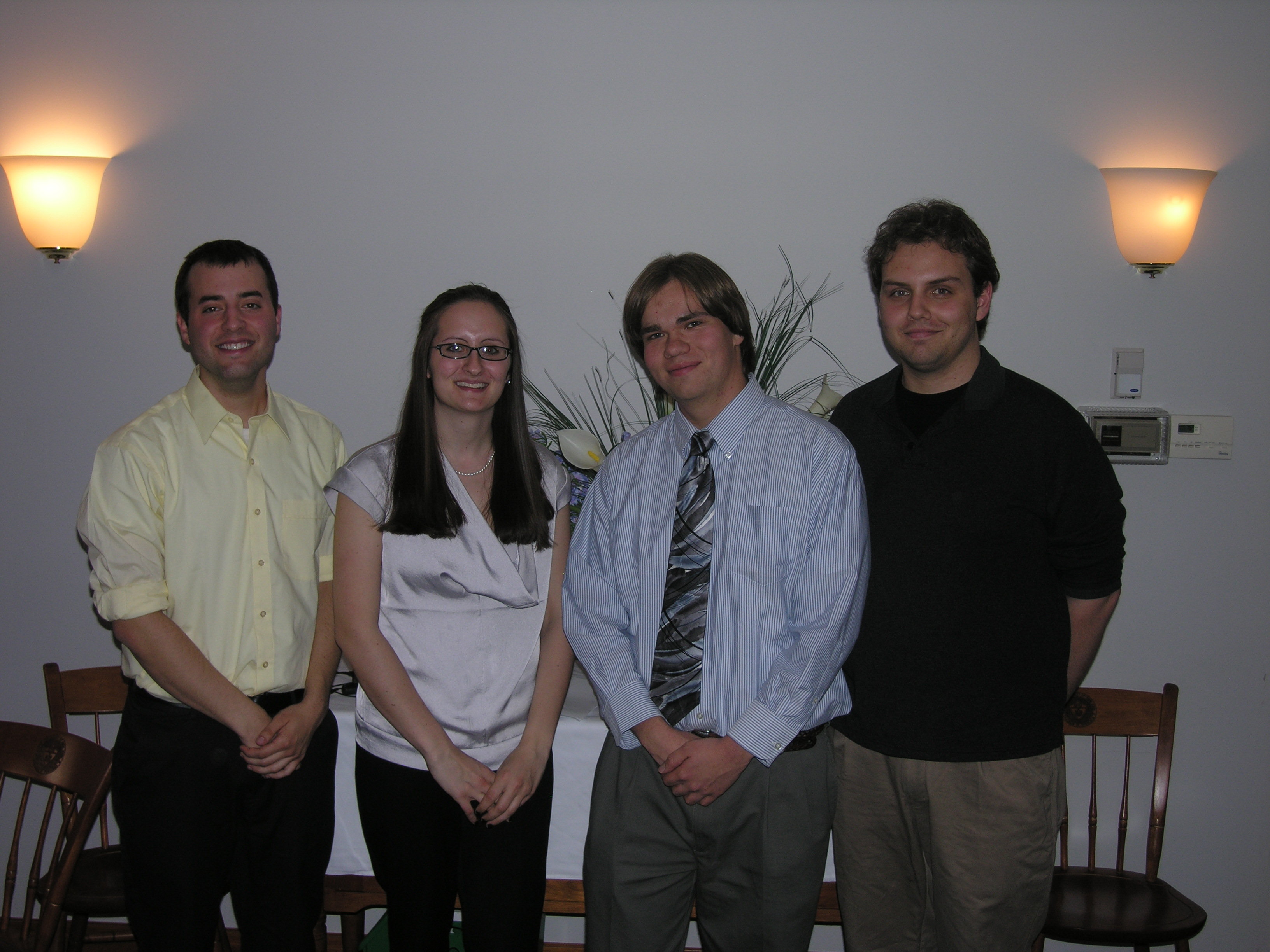 2017 – 2018 Award

Winners

J. Murdoch Dawley Outstanding Senior Award:

Mitchell Macholz

J. R. Soukup Outstanding Junior Award

Ethan Francis

John R. Quatroche, Jr. Outstanding Campus Citizenship Award:

Brenna Sanford

Fredonia Lawyer Alumni Award:

James Young

Tyler Weber

Politics & International Affairs Faculty Scholarship

Nathaniel Clark

Dowd Early Achievement Award

Todd Sweet

Samuel Lewandowski

Hurtgen Scholarship

Daniel Richer

Brenna Sanford

Michael Livingston-William Demrick Awards

Alejandra Gonzalez

Joseph Weglarski

Daniel Richer

Outstanding Student - International Affairs Award

Oscar Fortunato

2016 – 2017 Award

Winners

J. Murdoch Dawley Outstanding Senior Award:

Bonnie Binggeli

Emily Huntington

John R. Quatroche, Jr. Outstanding Campus Citizenship Award:

Connor Hoffman

Michael Livingston-William Demrick Awards

Nathaniel Clark

Joseph Drake

Daniel Whitcher

Politics & International Affairs Faculty Scholarship

Matthew Gourtney

Kelsey Gerholdt

Hurtgen Scholarship

Oscar Fortunato

Dowd Early Achievement Award

Samuel Anderson

Nicholas Piedmont

J. R. Soukup Outstanding Junior Award

Mitchell Macholz

James Young

Outstanding Student - International Affairs Award

Zachary Beaudoin