Chemistry and Biochemistry Department
The Department of Chemistry and Biochemistry is located in the $60 million Fredonia Science Center. We have a wonderful department whose strengths include outstanding teaching and mentoring, as well as excellent undergraduate research opportunites.
---
Featured Students and Faculty
For more News about student research and faculty work, visit our department news page.
Allan Cardenas and the CHEM 481 Advanced Experimental Chemistry Lab students submit manuscript to the Journal of Molecular Structure for their characterization of merocyanine.
Dr. Cardenas' students chemically synthesized merocyanine and characterized two distinct crystalline forms of the compound. The article is titled "Brooker's Merocyanine: Comparison of single crystal structures"
The following students contributed to the publication. Kathleen L. Hayes, Emily M. Lasher, Jack M. Choczynski, Ralph R. Crisci, Calvin Y. Wong, Joseph Dragonette, Joshua Deschner and Allan Jay. P. Cardenas
Dr. Milligan publishes article in one of the top journals in environmental chemistry.
Milligan's article with collaborators from SUNY Oswego, Water Science and Technology Directorate of Canada, and Clarkson University titled "Age-Corrected Trends and Toxic Equivalence of PCDD/F and CP-PCBs in Lake Trout and Walleye from the Great Lakes" was recently published in Environmental Science and Technology. This journal is one of highest rated environmental chemistry journals in the country. His work focuses on the quantification of trace amounts of pollutants using gas chromatography and mass spectroscopy.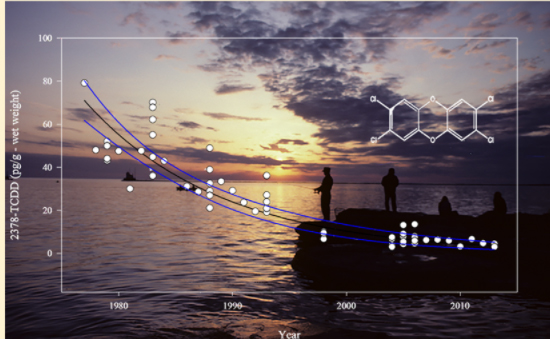 Video highlighting Dr. Milligan's research grant
Fall 2017 Award Ceremony
The Chemistry and Biochemistry department held their Fall 2017 Award Ceremony on December 7, 2017. The Department distributed over $55,000 in student awards and scholarships. These include awards for outstanding performance in courses, research and for student recruitment.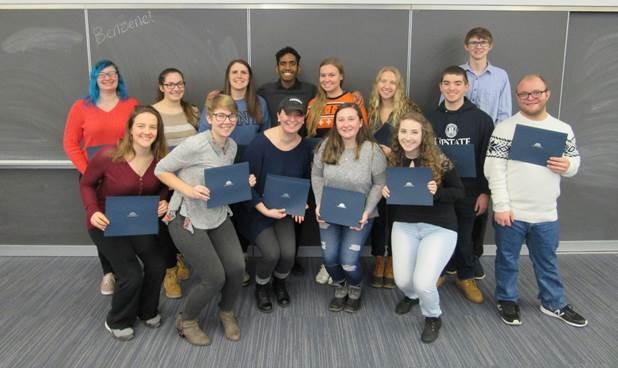 Fall 2017 Research Student Lab Coat Ceremony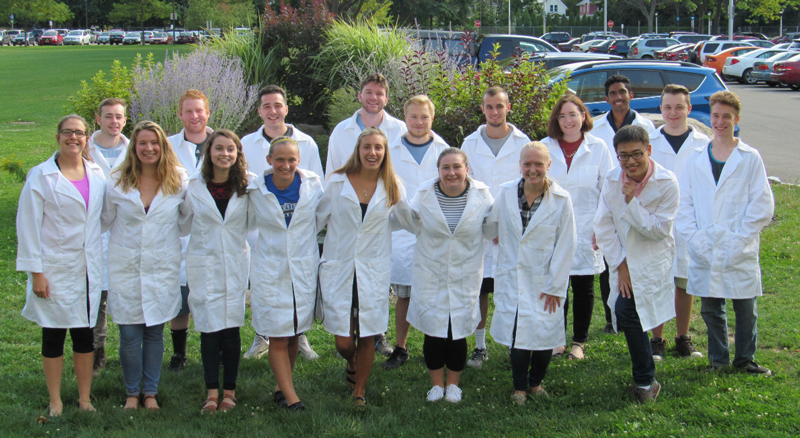 RNA structures associated with Huntington's Disease and Myotonic Dystrophy published by Dr. Matthew Fountain and Damian VanEtten in the ACS journal Biochemistry.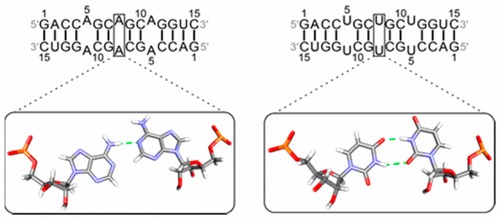 Dr. Matthew Fountain and Damien VanEtten (BIOLOGY 2017) published a paper with collaborators at The Scripps Research Institute. The paper describes the structure of two toxic RNA triple repeat sequences that are associated with Huntington's disease and myotonic dystrophy.
Jonathan L. Chen† , Damian M. VanEtten‡, Matthew A. Fountain‡, Ilyas Yildirim*†§ , and Matthew D. Disney*†§ Structure and Dynamics of RNA Repeat Expansions That Cause Huntington's Disease and Myotonic Dystrophy Type 1, Biochemistry, 2017, 56 (27), pp 3463–3474
The Chemistry and Biochemistry Department was recently represented at the 254th American Chemical Society (ACS) National Fall Conference in Washington, D.C. August 20-24, 2017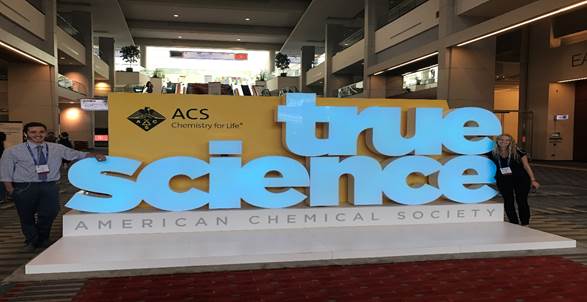 Brett Baker and Brianne Weichbrodt attended and presented their scientific findings at the 254th American Chemical Society (ACS) Fall National Meeting. ACS National meeting is one of the largest gathering of scientific minds from around the globe with at least 10,000 participants and attendees. The theme for the Fall 2017 meeting is Chemistry's Impact in the Global Economy. It was held at the nation's capital, Washington D.C on August 20-24.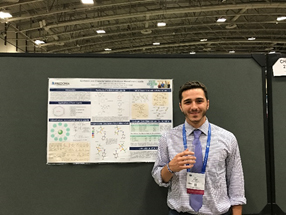 Brett is senior majoring in chemistry. He presented a poster featuring is on-going study of Synthesis and Characterization of Anilinium Based Ionic Liquids. He aims to relate the structure of the molecule/ion pair to its physical properties such as melting point, viscosity and diffusion. The chemistry of ionic liquid is a fast growing field due to its wide array of application in industry, and energy generation/utilization. Brett also recently awarded the Keller Research award and the Boriello and Casden award as recognition for outstanding undergraduate research.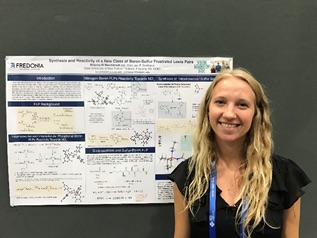 Brianne is also a senior chemistry major. Her study focuses on the Synthesis and Characterization of Sulfur-Boron Frustrated Lewis Pairs (FLPs). The science of FLPs are relative young and Brianne wants to add more example of FLPs. These FLPs are fascinating molecule that can capture and activate small molecules such as hydrogen gas (H2), carbon dioxide (CO2) and nitric oxide (NO). Applications of FLPs in catalysis, synthesis and even environmental protection is now being developed. Brianne has successfully synthesized a new example of these FLPs which impressed and captivated the attention of many attendees. Last summer, she joined the research group of Dr. John P. Richards at State University of New York at Buffalo (UB) as a summer research intern. She is also a recent recipient of the Frank J. Contanza's Greenhouse Memorial award which is a testament for her exemplary performance in undergraduate research.
Crystallography articles written by chemistry undergraduate students get published in IUCrData

Nine students in the Department of Chemistry and Biochemistry at the State University of New York at Fredonia representing sophomore, junior and senior classes are making an impact in the scientific community one crystal structure at a time.
Their separate lab experiments produced two articles that were published in IUCrData, a peer-reviewed open-access data publication of the International Union of Crystallography. Both dealt with the molecular structure and crystal packing of a compound the students synthesized in their respective undergraduate laboratories.
Four seniors Joshua Deschner, Calvin Y. Wong, Ralph R. Crisci and Joseph Dragonette and three juniors Jack M. Choczynski, Kathleen L. Hayes and Emily Lasher had their paper published in the Feb. 21 issue. They are enrolled in CHEM 481 Advanced Experimental Laboratory.