Department News
2017 NEWS
Allan Cardenas and the CHEM 481 Advanced Experimental Chemistry Lab students submit manuscript to the Journal of Molecular Structure for their characterization of merocyanine.
Dr. Cardenas' students chemically synthesized merocyanine and characterized two distinct crystalline forms of the compound (shown below). The article is titled "Brooker's Merocyanine: Comparison of single crystal structures"
The following students contributed to the publication. Kathleen L. Hayes, Emily M. Lasher, Jack M. Choczynski, Ralph R. Crisci, Calvin Y. Wong, Joseph Dragonette, Joshua Deschner and Allan Jay. P. Cardenas
Dr. Milligan publishes article in one of the top journals in environmental chemistry.
Milligan's article with collaborators from SUNY Oswego, Water Science and Technology Directorate of Canada, and Clarkson University titled "Age-Corrected Trends and Toxic Equivalence of PCDD/F and CP-PCBs in Lake Trout and Walleye from the Great Lakes" was recently published in Environmental Science and Technology. This journal is one of highest rated environmental chemistry journals in the country. His work focuses on the quantification of trace amounts of pollutants using gas chromatography and mass spectroscopy.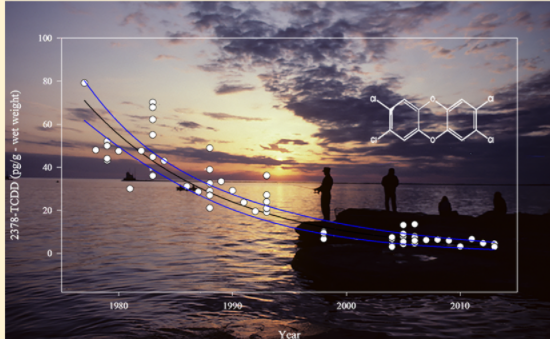 Figure showing the decrease in the total concentrations of polychlorinated dibenzo-p-
dioxins (PCDDs) in fish from 1975-2017.
Fall 2017 Award Ceremony
The Chemistry and Biochemistry department held their Fall 2017 Award Ceremony on December 7, 2017. The Department distributed over $55,000 in student awards and scholarships. These include awards for outstanding performance in courses, research and for student recruitment.

Front row:

Jessica Schimek, Claudia White, Kathleen Hayes, Kathryn Fink, and Angela Nichols. Back Row: Cordelia Beck-Horton, Kaycie Malyk, Emily Lasher, Alain Moffett, Ashley Wertz, Brianne Weichbrodt, Bradly Brown, Spencer Higbee, and Jonathan DeMaria
Fall 2017 Research Student Lab Coat Ceremony.