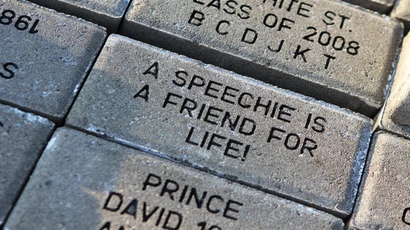 Preserve the Future by Honoring the Past One Brick at a Time
Show your pride in your alma mater by inscribing your name and class year on a brick. Commemorate a special occasion such as a graduation or retirement or memorialize a member of the Fredonia community. The Brick Walkway is installed in the Williams Center patio area for students, faculty and alumni to enjoy. The purchase of a walkway brick will support scholarships to assist Fredonia in continuing to attract the best and brightest students.

Guidelines for Inscription
Any symbol is considered one character (period, comma, dash). Spaces count as characters.
Please include spaces between words.
All text will be standard size and appear in CAPITAL letters. Greek letters and other symbols not found on a standard keyboard may NOT be used.
Bricks will be installed once a year prior to Homecoming and Family Weekend. Your brick order must be placed no later than July 1, to allow sufficient processing time. 
(the purchase of a brick is not tax deductible).
Do NOT include:
Obscenities or profanity.
Derogatory messages based on race, color, creed, religion, national origin, or sexual  orientation. 
Explicit messages regarding any individual or entity.
Political messages.