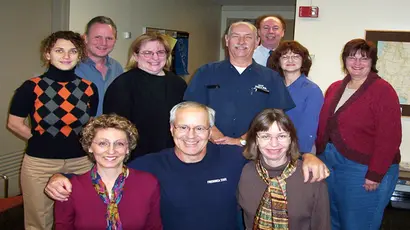 40th Anniversary Celebration
Thursday October 14th-17th
Displays of memorabilia and equipment from the past
McEwen Hall, 1st Floor, outside Sheldon
October 16th 11am-1pm

-

Tours of the following:
TV studio, Ground floor, Thompson Hall, E110 - tour of studio
Campus Newspaper, THE LEADER - Second floor, Williams Center, https://fredonialeader.org
Campus Radio Station, First Floor, McEwen Hall (including a display of former equipment outside the Sheldon Lab) http://www.fredoniaradio.com
Campus Television Station, Please use back entrance of Hendrix Hall. https://www.wnyftv.com
Campus Sheldon and Story Lab, rooms 103/106, First Floor, McEwen Hall, student short documentaries and movies will be shown
The StudiO, Room G9, McEwen Hall. See firsthand how films are created. Western movie set with URSA Camera
G10 Classroom, Student films will also be screened in this room (next to G9, McEwen Hall)
G6 the 'Cage' viewing (aka the heavy equipment room)
For over 40 years, WNYF-TV has provided a family to the countless students that have walked through its doors. Please Stand By is a film for alumni and newcomers alike, looking at the station from three angles: we follow the inception of a brand new show, we hear stories from alumni all the way back to the founding of WNYF, and we look at how the station is able to stay afloat today.
Dr Ted Schwalbe talks about transition to digital
Early recording of communication department welcome webpage
Here are some webpages from the early days of the internet and communication department 
| | | | |
| --- | --- | --- | --- |
| | | |   |
| | |   |   |
Audio

comm studies

 

 
Can you guess the name of  the  young bearded faculty member on your left side?