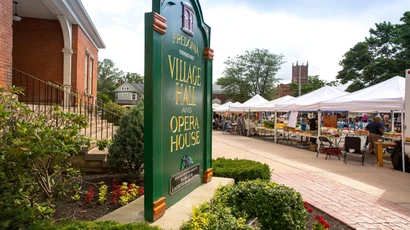 Around Fredonia
The village of Fredonia, the neighboring city of Dunkirk, and the surrounding Chautauqua County region provide opportunities to visit, explore, and enjoy the many attractions this area has to offer.
The Village of Fredonia features historic Victorian homes throughout the village, and a downtown that includes pizzerias, cafes and coffee shops, various ethnic cuisine, and a variety of locally-owned stores. The historic 1891 Fredonia Opera House hosts live performances, movies, and other specialized entertainment. Fredonia also hosts several street and community festivals all year long.
The greater Chautauqua County region is a year-round destination for adventure, entertainment, arts, and history. Five lakes, including Lake Erie and Chautauqua Lake, provide summertime opportunities for boating and fishing, while lake effect snowfall in the winter creates ideal conditions for downhill and cross-country skiing, snowmobiling, and winter-themed festivals and events.
Scroll down for links that will show you places to stay, places to eat, and attractions to see while you are visiting the Fredonia campus.