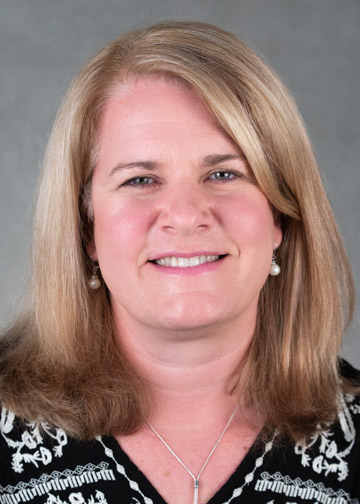 Dr. Bridget Russell
Associate Professor
Thompson Hall E132
716-673-4616
bridget.russell@fredonia.edu
Ph.D., SUNY Buffalo
Dr. Bridget A. Russell received her B.A., M.A., and Ph.D. from the State University of New York at Buffalo. She is an Associate Professor at the State University of New York at Fredonia. She has over 150 regional, state, national and international presentations. She has published works in JSHLR, CICSD, The Communicator, SpeechPathology.Com and Voice and Speech Review and has served as an editorial consultant for JSHLR and Delmar Publishing Group. She has mentored over 50 student independent research projects culminating in 12 graduate research awards at regional and state association conventions. She is director of the Speech Production Laboratory at SUNY Fredonia which include research collaborations with Women and Children's Hospital of Buffalo.
Office Hours
Tuesday: 11-12:30 & 2-3:30
Thursday: 11-12:30 & 2-3:30

Teaching Interests
Voice Disorders, Anatomy & Physiology of the Speech Mechanism, Speech Science, Cleft Palate and Craniofacial Disorders, Research Design, Clinical Instrumental Measurement, Speech Pathology: voice, cleft palate and swallowing disorders.
Research Interests
Voice disorders including vocal cord dysfunction assessment and treatment, Transgendered voice treatment, Speech ventilation and respiration, and Professional voice.
Awards and Honors
NYSSLHA Graduate Student Research Award Acting Mentor (Alessandra Peters), NYSSHLA (2019).