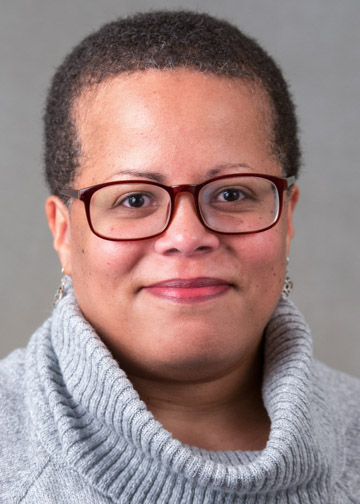 Dr. Saundra Liggins
Associate Professor
Fenton Hall 264 Fenton Hall
(716) 673-3858
Ph.D., University of California, San Diego
Saundra Liggins has taught in the English department since 2000. She has served as the English department representative for the SUNY Fredonia Senate as Senate Secretary. Saundra Liggins was the associate chairperson for the English department from 2008 to 2010. She also served as the Interim Chief Diversity Officer and Title IX Coordinator at SUNY Fredonia from 2019-2021.
Office Hours
Monday: 1 - 1:50
Wednesday: 1 - 1:50
Friday: 1 - 1:50

Teaching Interests
African-American literature; minority literatures of the United States; women's literature; gothic literature; cultural studies; slavery and the Underground Railroad
Research Interests
The use of gothic and horror conventions by African-American authors; fictional and non-fictional representations of the Underground Railroad; Black women's literature.
Awards and Honors
Professional Development Award for Teaching and Learning, SUNY Fredonia's Professional Development Center (2013).
Connect2Canada Faculty Enrichment Program Grant, The Government of Canada (2010).
Professional Membership
Midwest Modern Language Association
The Society for the Study of the Multi-Ethnic Literature of the United States
Northeast Modern Language Association
Presentations
"Doubling Down on the Gothic: Jordan Peele's 'Get Out' and 'Us'," Northeast Modern Language Association (2019).