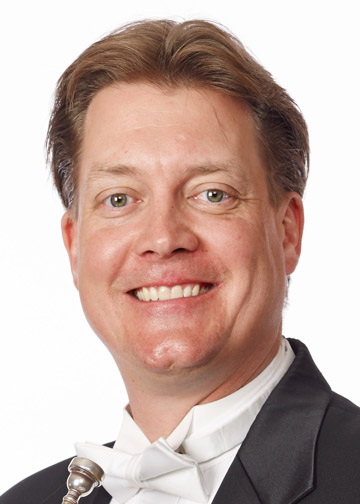 Alex Jokipii
Adjunct Lecturer (Head of Trumpet)
Brass
,
Music Performance
Mason Hall 2027 Mason Hall
(716) 673-3151
M.M., The Juilliard School
Alex Jokipii Principal Trumpet Buffalo Philharmonic Orchestra Adjunct Instructor SUNY Fredonia Alex Jokipii has held the position of Principal Trumpet with the Buffalo Philharmonic Orchestra and Adjunct Instructor of Trumpet at the SUNY Fredonia School of Music since 1998. A native of Escanaba, Michigan, Jokipii's earliest training in music began at the age of 11 when he took his first lessons on the B-flat trumpet his mother had kept from her days in the high school band. Alex began his advanced musical studies at Western Michigan University in Kalamazoo, Michigan, majoring in trumpet and music education. As part of his undergraduate curriculum Alex enrolled at the Sibelius Academy in Helsinki, Finland, where he studied for a year with Timofei Dokschitzer, the celebrated Principal Trumpet of the Bolshoi Theater Orchestra. After returning from his European study, Mr. Jokipii completed his studies at WMU with a bachelor's degree in Music Education. Jokipii was awarded a Master of Music degree in Trumpet Performance from the Juilliard School of Music and began to pursue his Doctor of Musical Arts degree. Before completing his DMA, he won the position of Principal Trumpet with the Charleston (South Carolina) Symphony Orchestra. During that time, he also performed with the Spoleto Festival Brass Quintet and the Charleston Brass Quintet and served on the performance faculty of Charleston Southern University as adjunct professor of trumpet. Mr. Jokipii has appeared as a soloist at the 1992 and 1994 International Trumpet Guild Conferences. He also has appeared on numerous occasions as a soloist with the Buffalo Philharmonic performing Bach's Brandenburg Concerto No. 2, Arutunian's Concerto, Haydn's Concerto, the Concerto for Trumpet, Piano, and Strings by Shostakovich, and Copland's Quiet City. Away from the BPO, Alex has appeared as a soloist with the Ars Nova Chamber Musicians, the Amherst Symphony, and the SUNY Fredonia Wind Ensemble. Mr. Jokipii recorded the Jerzy Sapieyevski Mercury Concerto for Trumpet and Wind Orchestra with the SUNY Fredonia Wind Ensemble and this recording is available on Albany records. In November 2017 Mr. Jokipii performed the world premiere of Finnish composer Jaakko Kuusisto's Trumpet Concerto. The new addition to the solo trumpet repertoire was commissioned by John and Pauline Kiltinen and written for Mr. Jokipii. The concerto was performed and recorded by the Buffalo Philharmonic in May of 2018. Internationally, Mr. Jokipii has appeared in master classes and recitals in Krakow, Bydgoszcz, and Walbrzych, Poland with fellow BPO brass principals Jacek Muzyk and Jonathan Lombardo. Alex was also the featured soloist with the West Bend (Wisconsin) Orchestra on their tour of Scotland in the spring of 2009. Domestically, Mr. Jokipii has presented masterclasses at University of Miami, Michigan State University, Western Michigan University, Northern Michigan University, and Baldwin-Wallace College. Former students of Mr. Jokipii have received graduate assistantships or scholarships at graduate schools around the country including University of Miami, University of Michigan, Michigan State University, Western Michigan University, Rice University, Manhattan School of Music, New England Conservatory, Northwestern University, University of New Mexico, The Colburn School, and Mississippi State University. Additionally, former students of Mr. Jokipii hold positions in the San Francisco Symphony and the "President's Own" Marine Band. Additionally, Jokipii has performed as a guest Principal Trumpet with the Dallas Symphony, the Florida Orchestra, and the Aspen Festival Orchestra. He has also performed with the New York Philharmonic, the Helsinki Philharmonic, the Savannah Symphony, and the Rochester Philharmonic. In addition to playing with the BPO and teaching at SUNY Fredonia, in his spare time Alex enjoys playing golf, attending Buffalo Sabres hockey games, and traveling with his wife Shari.
Awards and Honors
Distinguished Alumni Award, Western Michigan University (2017).