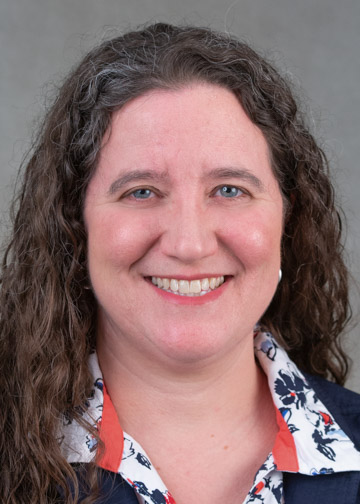 Carrie Pawelski, D.M.A.
Adjunct Lecturer (Music/Library)
Area: Major Ensemble Directors
Reed Library
716-673-3151
carrie.pawelski@fredonia.edu
D.M.A., Arizona State University
Bachelors in Music Education/Bachelors in Applied Trombone Eastman School of Music
Masters in Wind Conducting, SUNY Fredonia
Doctorate of Musical Arts in Wind Conducting, Arizona State University
Dr. Carrie Pawelski serves as adjunct faculty in the School of Music at SUNY Fredonia where she directs the All College Band. She also directs the high school and middle school bands at the annual Fredonia Summer Music Festival. Dr. Pawelski previously held the Director of Bands position at Henderson State University in Arkadelphia, Arkansas where she led all administrative and artistic aspects of the 180 member band program. Dr. Pawelski directed the Wind Ensemble, Marching Band and Concert Band, taught courses in conducting and supervised student teachers. An advocate for new music, Dr. Pawelski took part in commissioning projects for new works by Brenda Kayne, David Maslanka and Frank Ticheli. She also helped host the 2015 Society for Composers, Inc. conference at Henderson State, where her wind ensemble gave the world premieres of works by three young American composers.
Dr. Pawelski's full time position is the band director at Jefferson Middle School in Jamestown, NY where she is also on staff of the state champion Jamestown High School Red Raider Marching Band. She has conducted honor bands throughout New York State, Arkansas and Northeastern Texas.
Dr. Pawelski completed her undergraduate degrees at the Eastman School of Music where she received a bachelors of music education degree as well as a bachelors of music degree in applied trombone. At Eastman, Dr. Pawelski studied trombone with Dr. John Marcellus, performed in the Eastman Wind Ensemble under the direction of Donald Hunsberger and performed alongside musicians such as folk violinist Mark O'Conner, jazz trombonists Wycliffe Gordon, film score composer John Williams and pop star Bobby McFerrin. She studied wind conducting with Dr. Paula Holcomb at SUNY Fredonia and with Gary W. Hill at Arizona State University.
Research Interests
Dr. Pawelski wrote her doctoral thesis on music education for social justice: music education being used as a catalyst for social change in local communities.