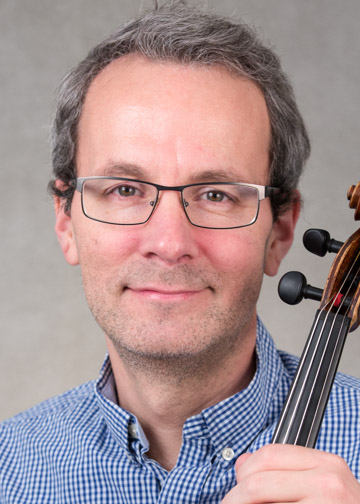 M.A., Indiana U
David Rose has served as a titled player of numerous orchestras, including Associate Principal of the Vancouver Symphony, Principal Viola of the Kitchener-Waterloo Symphony, and Acting Assistant Principal of the San Francisco Symphony. Mr. Rose is currently the principal violist of the G27 chamber orchestra in Toronto.

Also active as a baroque performer, he was a member of the Pacific Baroque orchestra, and has toured and recorded with Toronto's Tafelmusik.

Mr. Rose studied viola at the University of British Columbia, and also Indiana University (Bloomington). His main teachers included Gerald Stanick, Atar Arad and Stanley Ritchie.

He serves as head of strings at Fredonia, and teaches in the summer at the Rocky Ridge Young Artists Seminar in the Colorado Rockies , as well as the Fredonia Summer String Festival.
https://www.rockyridge.org/program/young-artist-seminar/
http://home.fredonia.edu/music/summermusic/hs-string
Teaching Interests
Viola of course!
Chamber music.
Orchestral music.
Interpreting the string music of J.S. Bach.
Research Interests
Mr. Rose will soon be recording all the Cello Suites of J.S. Bach, as well as selections from the Sonatas and Partitas. In addition, he will be publishing an etude book to aid in the learning of these great works.
Performances/Exhibits
Ekstasis and Friends: Chamber Music at the Huntington Library. Ekstasis Duo and Friends, Huntington Library, Huntington Library (2020).
Reves Extatiques: French Songs and Vocalises. Ekstasis Duo and Friends, Bob and Betty Young, Merkin Hall (2020).