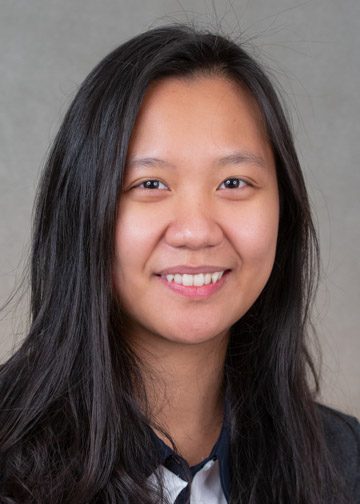 Isabel Ong
Adjunct Lecturer
Mason Hall
(716) 673-3151
Violinist Isabel Ong is an avid chamber musician with a passion for contemporary music, collaborating with musicians such as Tom Landschoot, Nokuthula Ngwenyama, Miranda Cuckson, Yoshie Akimoto, Max Levinson, and Scott Kluksdahl. She has served as a Fellow at the Foulger International Music Festival in Kean University, as well as at the Cortona Sessions in Italy, where she premiered pieces by many of today's upcoming contemporary composers. In addition to serving as a member of the New Juilliard Ensemble led by Joel Sachs at the Juilliard School, she has performed at venues such as Carnegie Hall, Alice Tully Hall, National Sawdust, and MOMA and most recently, was invited to perform in the Lucerne Festival Academy Orchestra in Switzerland.

A strong advocate for using the power of music to serve a greater humanitarian purpose, Isabel performed at ASAP's (Advocates for Southeast Asians and the Persecuted) fifteenth anniversary celebration honoring their non-profit service of spreading higher education and implementing healthier and cleaner living conditions for the people of Cambodia, Thailand, Laos, and Vietnam. She has performed on the Taiwan Indigenous Television Channel 16, and was also asked by Aletheia University of Tamsui, Taiwan to perform in their 130th anniversary concert, providing a mixed recital of Western Classical music and classically-rendered Chinese folk pieces. During the 2017-2018 season, Isabel was an inaugural member of the Spark Collective, an ensemble designed to perform new works by current compositional students at the University of South Carolina, and curate and perform interactive concerts for the community.

An equally dedicated teacher, Isabel was on faculty in the music department of the St. Ignatius Loyola School, currently serves as the teaching assistant to Ari Streisfeld at the University of South Carolina, and spends her summers on faculty at Point CounterPoint in Vermont. She holds degrees from Juilliard (BM and MM) and is currently completing her doctorate from the University of South Carolina. Her teachers include Joseph Lin, Laurie Smukler, and Ari Streisfeld. In her free time, Isabel can be found poring over a good book.