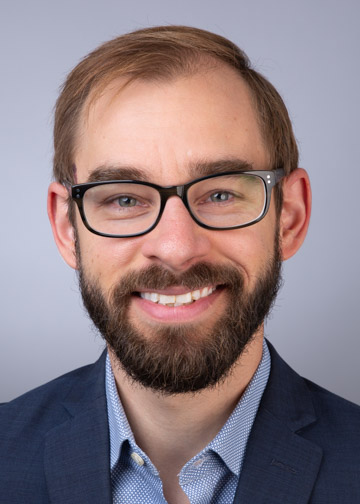 D.M.A., Eastman School of Music
Dr. Nick Weiser is that most rare combination - a musician's musician, and a musical ambassador to the masses. A communicative artist skilled not only as a pianist, conductor, and bandleader, but as a composer, arranger, educator, and scholar, Weiser has performed to acclaim as a soloist and collaborator in numerous idioms. Diligence, curiosity, and love of music led him from his tiny hometown of Dighton, Kansas first to the University of Kansas, and then on to the Eastman School of Music, where he earned his M.M. and D.M.A. in the Department of Jazz Studies & Contemporary Media under the tutelage and mentorship of Harold Danko and Bill Dobbins, among others.

Weiser has dazzled audiences around the United States and in Europe with performances at the Santiago de Cuba International Jazz Festival, the Montreux Jazz Festival, the Umbria Jazz Festival, the Xerox Rochester International Jazz Festival, New York City's "Prez Fest," and Carnegie Hall. He has enjoyed performance engagements with musicians including Dick Oatts, Byron Stripling, Bob Brookmeyer, Christian McBride, Peter Erskine, and the New York Voices. Highly regarded as a collaborative pianist, Weiser appears on recent CD releases by tubist Justin Benevidez of Florida State University, longtime Ithaca College trumpet professor Frank Gabriel Campos, and Weiser's own jazz trio, i3°, featuring bassist Nicholas Walker and drummer Greg Evans. He is in the process of recording his own solo piano album, to be released in 2020.

A passionate and dedicated educator, Weiser has been the architect and director of the Jazz Studies curriculum at the State University of New York at Fredonia since the program began in 2017. Among his duties at SUNY Fredonia, Weiser is proud to conduct two stellar big bands, the Fredonia Jazz Orchestra and the DownBeat award-winning New Jazz Ensemble. In the greater Fredonia community, Weiser serves as artistic director of the Fredonia Jazz Society, which he co-founded, performing regularly and facilitating concerts sponsored by the organization. Prior to coming to Fredonia, Weiser taught at Ithaca College from 2011 to 2017 and at Cornell University from 2013 to 2017, and has maintained a private teaching studio for many years.
Teaching Interests
Jazz Ensembles, Jazz Improvisation, Jazz Standard Repertoire
Research Interests
Jazz Pedagogy, The Music of Pianist Clare Fischer
Awards and Honors
Student Music Award: 2019 Outstanding Performance by a Large Jazz Ensemble - Undergraduate College, DownBeat Magazine (2019).
Performances/Exhibits
Nature Boy by Eden Ahbez for two oboes and jazz piano. Sarah Hamilton, Nick Weiser, Aaron Hill, , YouTube https://www.youtube.com/watch?v=pGuCA6evtDE (2021).
Performance for the Erie Phil with Erie's WQLN. Sarah Hamilton and Nick Weiser, , Erie, PA WQLN (2021).
With Eyes Glancing Skyward by Fredonia composer Rob Deemer. Sarah Hamilton and Nick Weiser, , YouTube https://www.youtube.com/watch?v=pGuCA6evtDE (2021).