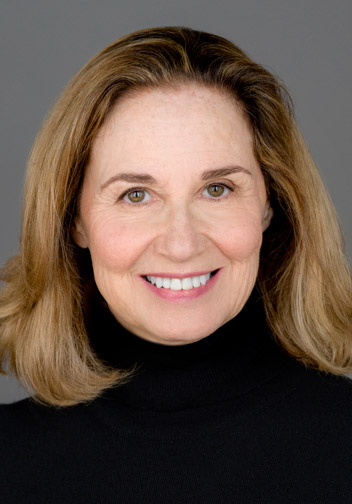 Doctor of Music, Northwestern University
Dr. Paula Holcomb, Director of Bands, Area Head of Instrumental Conducting and Professor of Music at the State University of New York at Fredonia, conducts the Wind Ensemble and oversees the extensive band and instrumental conducting program. She developed and implemented the highly successful and internationally recognized Masters of Music in Conducting degree program and teaches graduate and undergraduate conducting. She has also held conducting symposiums with Gene Corporon, Mallory Thompson, Craig Kirchhoff, Tim Reynish, Gary Hill, Alan McMurray, and Mark Scatterday.

Prior to her appointment with Fredonia, Dr. Holcomb served as Director of Bands at Central College in Pella, Iowa. Under her direction, the Symphonic Wind Ensemble and Symphonic Band toured internationally to Canada, Europe, and Mexico and performed at Alice Tully Hall of New York City's Lincoln Center. Dr. Holcomb is former assistant horn of the Des Moines Symphony and past president of the Iowa Music Educators Association. As a hornist, Holcomb has performed with international artists including Chuck Mangione, Simon Estes, Billy Taylor, Doc Severinsen, Moody Blues, Grant Geisman, Bobby Shew , Gerry Niewood, Marvin Stamm, Ian McDougall, Arnold Chycoski, Lou Marini, Pete Christlieb, Phil Wilson and Roger Neumann.

Having received a Doctor of Music at Northwestern University studying with John P. Paynter, and Master's and Bachelor's degrees from Drake University, Holcomb is a highly sought adjudicator and guest conductor, having conducted bands and orchestras in 42 states, Hong Kong, Singapore, China, South America, Australia, Mexico, Europe, and Canada. She has presented Conducting Symposiums in Canada, South America, Australia, Europe, Asia, and the United States. Holcomb was presented with the Kappa Kappa Psi A. Frank Miller award, served on the Council and Artistic Planning Conference Committee for the World Association of Symphonic Bands and Ensembles, is the past president of the Northeastern Division of College Band Directors Association and past president of the Iowa Music Educators Association. Dr. Holcomb served as Vice President of the Conductors Guild and chaired the 2012 Chicago Conference.


Dr. Holcomb has hosted internationally known conductors, artists and composers including: Larry Combs, Gail Williams, Dan Perantoni, Donald Hunsberger Joseph Schwantner and Samuel Adler, Robert Van Sice, Jim Self, Yu Hai, Leslie Bassett, Timothy Reynish, Dana Wilson, Ray Cramer, and Timothy Foley. Most recently, she has organized, facilitated and conducted a ten-day Wind Ensemble Tour of China, including Beijing and Guangzhou, and released the Fredonia Wind Ensemble CD –Commissions and Concertos featuring new commissions, rarely heard works and soloists Alex Jokipii, Principal Trumpet of the Buffalo Philharmonic Orchestra, and Randall Hawes, Bass Trombonist of the Detroit Symphony. In 2011 she initiated the International Conducting Symposium with co-clinician Peter Ettrup Larsen at Sibelius Academy in Helsinki, Finland. The Fredonia Wind Ensemble received support from the Sorel Medallion in Recording, Carnahan Jackson Grant and Sigma Alpha Iota Philanthropies to complete a recording project featuring female artists including Nadina Mackie Jackson, Michael Colgrass, Valerie Naranjo, Sue Francher, Mark Engebretson, Gail Williams, Dan Perantoni and Jim Stephenson.
Teaching Interests
Wind Ensemble, Bands, conducting
Research Interests
wind repertoire, conducting, ensemble development
Professional Membership
Conductors Guild
World Association of Symphonic Bands and Ensembles
College Band Directors National Association
National Association for Music Education