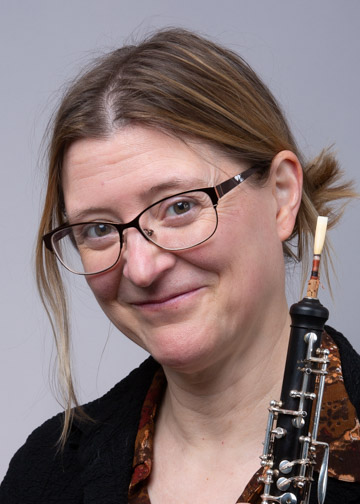 Dr. Sarah Hamilton
Professor
Oboe, Music Performance
Mason Hall 2157
716-673-4631
Sarah.Hamilton@fredonia.edu
DMA (Doctorate of Musical Arts), The Ohio State University
http://www.fredonia.edu/music/oboe
Dr. Sarah Hamilton is Associate Professor of Oboe at the State University of New York, at Fredonia, where she is a longtime member of the touring Fredonia Woodwind Quintet. She is principal oboe with the Western New York Chamber Orchestra and solo English Horn with the Erie Philharmonic. She has also performed regularly with Bach and Beyond, the Chautauqua Symphony and the Buffalo Philharmonic. Dr. Hamilton has appeared as a soloist most recently with the Orchard Park Symphony (on bass oboe), the Erie Philharmonic, the Western New York Chamber Orchestra, the Fredonia College Orchestra and Wind Ensemble, and at conventions of the International Double Reed Society. Dr. Hamilton has also given presentations on making the oboe more accessible in public school programs at New York State, Erie County and Chautauqua music teacher association conferences. Dr. Hamilton is currently working on expanding the repertoire of works for English horn and bass clarinet. She is co-author of the oboe chapter of Teaching Woodwinds, an online woodwind method book which was published by Mountainpeak Music in 2014, and currently exploring the diversity of the oboe community while writing an online oboe encyclopedia to be published in 2017.

Dr. Hamilton holds a Doctor of Musical Arts degree from The Ohio State University and a Master of Music degree from Wayne State University where she studied with former Detroit Symphony oboist Robert Sorton. She holds a Bachelor of Music degree from the University of Western Ontario where her teachers included Shelley Heron, Geralyn Giovannetti and Perry Baumen.

Teaching Interests
Oboe, English Horn, Chamber music, Oboe method class, Entrepreneurship in the Arts.
Research Interests
Crossover classical chamber Music, The "New" Classical Music, Musician's Health and Body use (Body Mapping), Community Engagement
Awards and Honors
Sabbatical, SUNY Fredonia (2018).
Presentations
"Children's Concerts: Opportunities for Interactive Listening," 2018 Early Childhood Music and Movement Convention (2018).