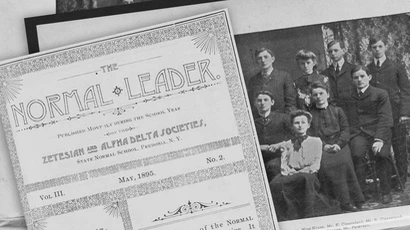 History of SUNY Fredonia
In 1826, Fredonia residents established a form of higher education beyond the "common school" when they created the Fredonia Academy. In 1948, Fredonia became one of the four-year colleges in the newly-established State University of New York (SUNY) system.
1826
Fredonia, N.Y. residents established a form of higher education beyond the "common school" when they created the Fredonia Academy in 1826. Before long, the academy was known as a regional center for teacher training. One of the era's most notable students was Benjamin Franklin Goodrich, known today as B.F. Goodrich.
1866
When New York State authorized Fredonia as the site of one of its four new Normal Schools in 1866, the former academy became known as the Fredonia Normal School. Normal schools issued state-certified teaching credentials to graduates. Classes began in December 1867. Records note, "End of Old Academy. From this, the Fredonia Academy Merged into the Normal and Training School." During an 1867 Reunion, O.W. Johnson Esq. noted, "So, we see the Academy does not die, it only assumes a new, more comprehensive and glorious life." Joseph A. Allen was the Normal School's first leader.
1887
Faculty member Jesse Hillman planted the seeds of Fredonia's outstanding music program in 1887. One of the Normal School's graduates at this time was James H. McGraw, who co-founded the McGraw-Hill Publishing Co.
1892
Still in weekly publication today, the Fredonia student newspaper, "The Leader," first appeared in May 1892. View Leader issues archives >>
Turn of the Century
In the early 1900s, after a tragic fire destroyed the Fredonia Normal School building and took the lives of six students and a janitor who attempted to save them, "Old Main" was built, and for years this became the center of higher education in Fredonia, N.Y. This structure remained part of the campus for decades, and it still stands as a residential facility.
1920 - 1947
After World War I, the U.S. faced teacher shortages as well as a new commitment to improve teacher education by adding college-level liberal arts curricula. Thus, in 1940, Fredonia issued its first baccalaureate degrees. One year later, a center for Fredonia's outstanding music program was built on a new site of 58 acres, and the relocation of the Normal School to a complex campus system of 256 acres was underway.
Along with World War II came the state's official designation of the school as Fredonia State Teacher's College.
Student housing shortages and faculty and student involvement in wartime efforts were the order of the day, and the war's end brought the establishment of the first master's degree program.
1948
In 1948, Fredonia became one of the four-year colleges in the newly-created State University of New York system.
1960s-70s
During the 1960s, State University of New York at Fredonia benefited from the baby boom, and the state administration of Gov. Nelson Rockefeller, who infused new growth and vision into the SUNY system. In this era, the first bachelor of arts degrees not associated with teacher education were awarded, and the architectural visions of I.M. Pei came to life in a master plan for buildings and grounds that remain unrivaled in beauty and design.
The Vietnam War years, the Civil Rights Movement, and women's liberation brought student activism and cultural changes to the campus at the same time, breathing life into new student organizations, a deeper awareness of the value of student life outside the classroom, as well as new interests in an expanding academic curriculum. Fredonia was among the first colleges in the nation to start programs in Sound Recording Technology and Recombinant Gene Technology.
1980s
The college weathered the trials of state fiscal crises but accomplished a major goal in successfully meeting the goal of its first Capital Campaign, raising more than $5 million in private funds for students scholarships and other needs. During this time, Fredonia made its first appearance as a top ten school in U.S. News & World Reports' college rankings.
1996 - 2012
From 1996 to 2012, tremendous growth took place at State University of New York at Fredonia that included the construction of new buildings and an expansion of enrollment by 25 percent, or 1,000 undergraduates. Graduate enrollment doubled, minority students quadrupled, and international students increased by a magnitude of 10. A major capital campaign raised nearly $17 million in private funds to support State University of New York at Fredonia.