Criminal Justice Honor Society

Alpha Phi Sigma is the national honor society for criminal justice majors, recognizing the academic excellence of undergraduate and graduate criminal justice students.
The goals of Alpha Phi Sigma are to honor and promote academic excellence, community service, educational leadership, and unity.
Alpha Phi Sigma is the only Criminal Justice Honor Society which is a certified member of the Association of College Honor Societies and affiliated with the Academy of Criminal Justice Sciences.
Phi Theta chapter is the local Fredonia chapter of Alpha Phi Sigma and was established during the 2013/2014 academic year.
Concrete advantages of membership include: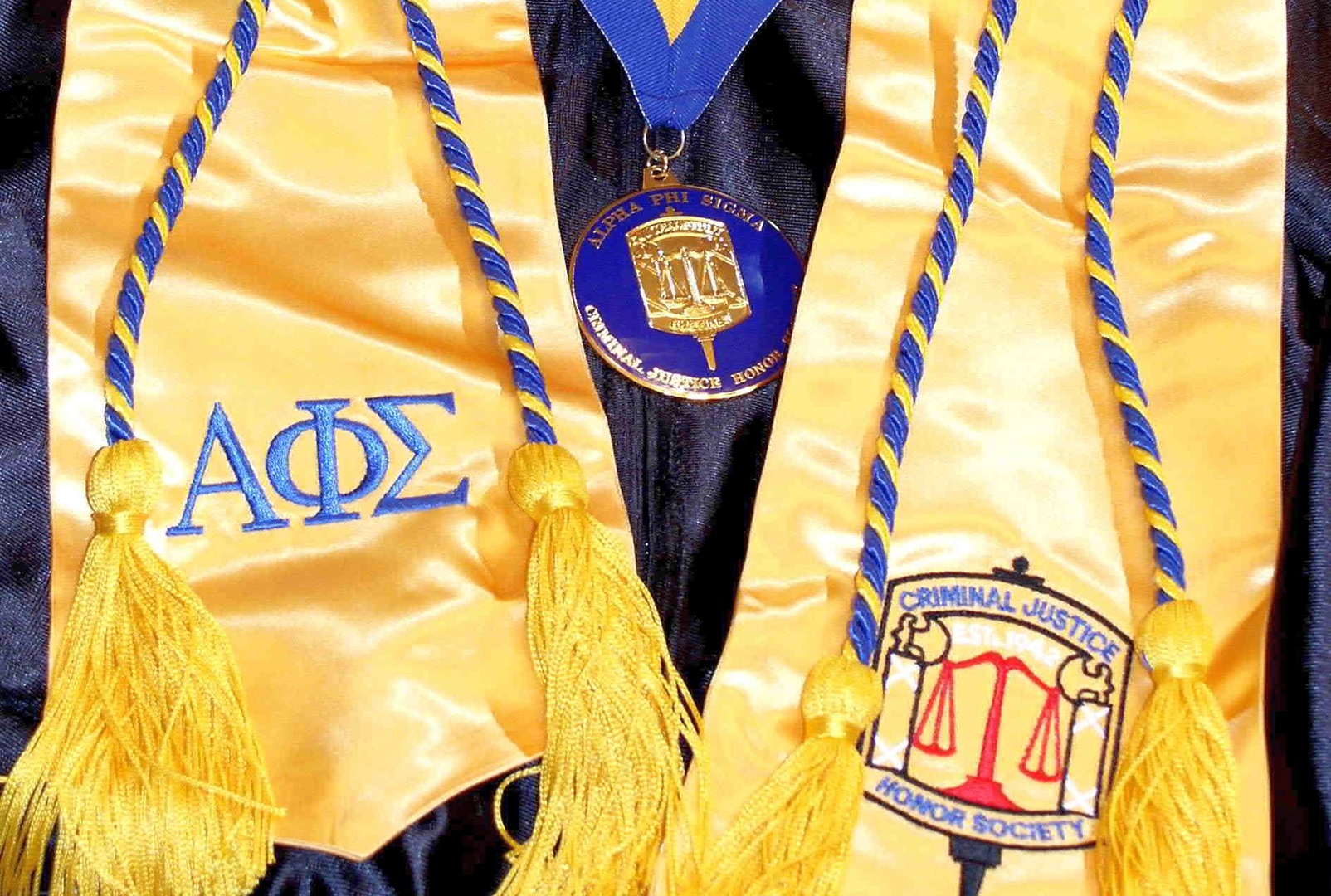 The documents: a membership certificate, a lapel pin, a wallet card, honor stole, honor medallion, honor cord which give tangible evidence of membership.
The experience gained by working with Alpha Phi Sigma is excellent for building up a resume.
Alpha Phi Sigma is a springboard for professional growth. Opportunities are made available to the members for promoting their research, receiving national recognition, meeting and interacting with leaders in the criminal justice field, and meeting and interacting with Alpha Phi Sigma members of other chapters across the country who also will be future leaders.
The United States Government recognizes membership in Alpha Phi Sigma as meeting one of the requirements for entrance at the GS-7 level in the Federal service.
Experience.com: Alpha Phi Sigma partnered with Experience, the largest career site specifically for college students and young professionals.

Membership Policies for Students:
Undergraduate students must have completed at least three full-time semesters or equivalent.
Undergraduates must have a cumulative grade point average of 3.2 on a 4.0 scale, as well as, a 3.2 average in Criminal Justice courses or rank in the top 35% of their class.
A minimum of 4 courses shall be in the criminal justice field (CRMJ courses, legal courses etc) - Transfer courses count!
DO NOT send unsolicited membership forms to the honor society advisor (an e-mail will be sent to the listserv with more infromation about honor society membership)

Membership Fee:
A one-time payment of $50.00 is made to the national headquarters when joining. The one-time membership fee provides lifetime membership, a key pin and a membership certificate.
Current Honor Society Advisor:
Dr. Jesse Norris
W375 Thompson Hall
716-673-4612