Iovannone, '04, encourages students to explore 'Scholar-Activism'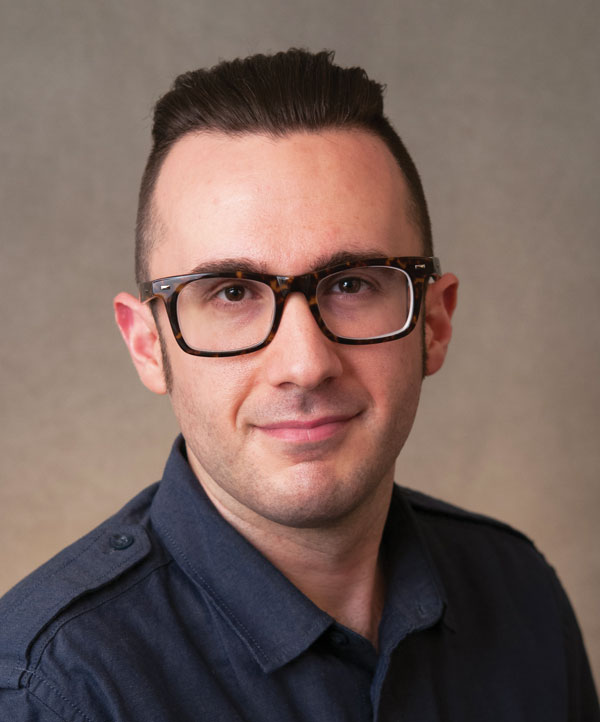 At the 2015 Fredonia Women's Student Union annual Paper Plate awards ceremony, its faculty advisor received a very special recognition: The Janet Mock award. An author and transgender activist who has contributed to the greater social commentary regarding transgender issues, Mock represents the creator of a support system that challenges others to grow into activists and advocates for social justice.
Dr. Jeffry Iovannone exemplifies all of these qualities.
Dr. Iovannone, visiting professor and coordinator of Fredonia's Women's and Gender Studies (WGST) program, takes pride in something that not every professor likes to admit: he learns from his students.
As coordinator of an interdisciplinary program such as WGST, which came out of various social justice movements throughout history, Iovannone continues to prioritize the importance of obtaining social justice for a variety of marginalized groups by intertwining activist ideals with academic practices. Ever since the re-formulation of the WGST program in 2013, when the word "gender" was added, Iovannone has gone above and beyond to expand on core feminist principles by incorporating issues of gender and sexuality on a broader, more inclusive scale.
Iovannone has watched Fredonia develop in combatting issues of gender and sexuality from the time he received his undergraduate degree in English in 2004 to when he returned as a faculty member in 2011.
"As a queer person from a really small, rural high school, coming here was a completely different environment that was much more open-minded," says Iovannone. "I was so surprised and encouraged that, when I came back to teach, the awareness of gender and LGBT issues on campus just exploded and was even more prevalent than when I was a student."
Iovannone attributes his initial interest in the field to a number of professors from whom he took classes as a student. These include Dr. Adrienne McCormick, a previous WGST coordinator and current dean of the College of Liberal Arts and Sciences at SUNY Oswego; Dr. Najia Aarim of the Department of History, and Dr. Joy Bilharz of the Department of Sociology and Anthropology.
"Jeff was in my 'Sex and Gender' class years ago, and what I most remember is that he wrote the best paper ever submitted for that class," recalls Dr. Bilharz. "He is smart, creative and innovative, and students will greatly benefit from his perspectives."
While serving on the WGST advisory board as an adjunct and completing his doctoral dissertation at the University of Buffalo (UB), Iovannone worked diligently with fellow board members Dr. Jeanette McVicker of the Department of English, who coordinated the program from 1996 to 2000, and Dr. Carmen Rivera of the Department of Modern Languages and Cultures, to reform the program in a way that addresses conventional disciplines that are learned though a social advocacy lens, connecting learning with practice and classroom with community.
"He has brought a particularly important focus for the program right now by focusing on queer studies," says Dr. McVicker. "The advisory board agreed that we wanted to move more toward gender inclusive and sexuality studies, but it's a process because not all professors automatically come with expertise in this particular discipline. That's been his strongest contribution, taking the program in those directions."
Since Iovannone became coordinator, students have grown not only as academic scholars but as advocates for social justice. In all of his classes, he incorporates what's known as "scholar-activism," a term used by black lesbian feminist author and activist Alexis De Veaux, whom Iovannone says was his most influential professor during graduate school at UB.
One example began as a group project in his 'Transgender Lives' class, in which students investigated the issue and importance of "primary names" to many transgender students. Students Graham Caufield, Dean Bavisotto, and Ronan Cichelli were so inspired by the project that the trio began working last spring to investigate Fredonia's policy on public identity, helping campus administrators explore more socially progressive options.
"When I talk about scholar-activism, I'm talking about imparting upon students skills, techniques and an overall philosophy of thinking of how academic knowledge can be used to work toward social change," says Iovannone. "It's not bound by a classroom or a test, and a student's personal experiences — especially experiences of oppression — can be a really powerful catalyst toward academic research and social betterment."
As his time at Fredonia progresses, Iovannone will continue to work side-by-side his students to become co-creators of knowledge, reaching beyond his own experiences and fighting for the social justice of others along the way.