Rockefeller ready for its close-up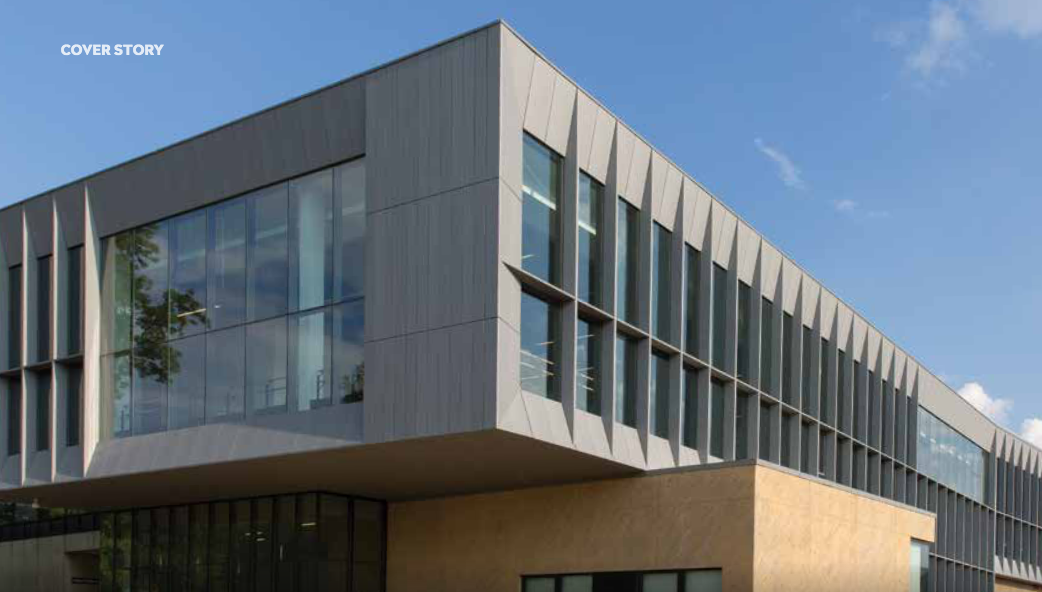 Opening Ceremonies October 20-23, 2016
Please visit the Homecoming schedule of events to see all the events related to the Opening Ceremonies for this expansion of campus facilities for the arts.
A new era begins in the fine and performing arts at Fredonia
Not since the Michael C. Rockefeller Arts Center opened more than four decades ago has Fredonia unveiled such a bold statement that strengthens how the visual and performing arts are taught and experienced in Western New York.
With an addition that creates approximately 40,000 square feet of functional space and renovation of a majority of the original complex, the first major upgrade of Rockefeller will greatly enhance Fredonia's arts programs that have thrived and, in some cases, outgrown their existing spaces.
When Rockefeller opened in 1969, Fredonia's undergraduate degrees in the arts were limited to Music, Applied Music, Art and Speech/Drama. Likewise, the number of graduates each year in those disciplines was small, usually around 100. Today, there are more than 1,000 majors — out of an enrollment of about 4,800 students — within a growing number of fine and performing arts programs. More than 200 degrees are awarded in these disciplines every year.
Over the years since the facility first opened, new majors have been added in Musical Theatre, Design and Technical Production, Sound Recording Technology, Music Therapy, Dance, Animation/Illustration, Graphic Design, and Film and Video Art.
"The new spaces in Rockefeller Arts Center showcase what is distinctive about studying the arts at Fredonia: the quality of the professional training for those who perform on stage and those who work behind the scenes," said President Virginia Horvath. The new acting and dance studios, sculpture and ceramics studios and other spaces will attract students in all aspects of theatre, dance, visual arts, and new media and music, she added.
With nearly 30 years of duty, as technical director, lighting designer and chair of the Department of Theatre and Dance, Professor Emeritus Stephen Rees was the ideal choice to guide the Rockefeller expansion as project shepherd.
Mr. Rees was intrigued at the prospect of having a hand in improving the building and serving on behalf of faculty who have worked diligently to successfully maintain academic programs in a challenging physical environment. Institutional memories and experiences that he and a team of 17 faculty members, administrators, facilities planners and technical staff possess were vital in identifying the needs and anticipated outcomes of the project.
Like the new Science Center, opened just two years ago, the Rockefeller project has been designed to reflect how students learn today by facilitating an intermingling of the arts. The project coincides with the founding of the College of Visual and Performing Arts that combined the School of Music with the departments of Theatre and Dance, Visual Arts and New Media, Rockefeller Arts Center and the Marion Art Gallery.
"This project addresses the current needs of our visual and performing arts programs for more and better space, allows us to grow and brings nearly all of the arts programs into one complex," said Ralph Blasting, dean of the College of Visual and Performing Arts. "Yes, students will have better studios and equipment. But more importantly, visual artists, actors, dancers, designers and musicians will literally be crossing paths in the building, mirroring the crossing of disciplines which now defines the arts industry."
Robert Booth, chair of the Department of Visual Arts and New Media, expands on Dean Blasting's observation, indicating that many conceptual and process barriers between disciplines in the visual arts no longer exist.
"Compartmentalization of theory and practice is now often seen as a hindrance to creative expression and growth in most areas. The establishment of a department almost exclusively under one roof, where people, work and ideas can freely interact, allows us to anticipate exciting new synergistic possibilities," Mr. Booth said.
Computer labs for animation and illustration, formerly in McEwen Hall, are right next door to the theatre scenic and lighting design labs. Graphic design resides one floor above. The theatre paint shop is next to the ceramics and sculpture studios and acting classrooms are next to the dance studios.
"It's that cross-pollination that is really exciting," Blasting remarked.
Thomas Loughlin, outgoing chair of the Department of Theatre and Dance, senses the dawn of a new era in the visual and performing arts at Fredonia. "Over the past 30 years, the groundwork has been laid by developing first-class education and training programs in theatre, dance, the visual arts and music," Mr. Loughlin said. "The new addition will be the culmination of all the previous work that has gone into making Fredonia the premier fine arts school in the SUNY system, capable of attracting students at the national level.
"We are beyond excited, and look forward to raising the curtain on this new era," Loughlin added.
As a student at Fredonia in the 1960s, retired Faculty Student Association Executive Director Chuck Notaro witnessed the construction of Rockefeller and remembers the profound impact the new fine arts center had on the campus.
"What a magnificent structure it was," Mr. Notaro said. "I remember thinking it was our version of Lincoln Center," he said. "It really gave a physical presence to the programs that already existed. It opened up a world of opportunity."
A short "phase-in" of the move into Rockefeller will take place during the fall semester; all spaces in the addition along with scene and costume shops in the original structure were open for the start of classes. Work in all renovated spaces in the second and floors and Marvel Theatre entrance will be finished in time for grand opening ceremonies on Friday, Oct. 21. All spaces will be fully occupied by January 2017.
Under the same roof
The project enables Fredonia to relocate Dance and all Visual Arts and New Media programs that were previously scattered in other buildings into Rockefeller. That, Blasting remarked, "puts the 'center' back into Rockefeller Arts Center."
A host of glowing adjectives could easily describe the project, but versatility would have to be near the top of the list.
The addition — extending along the west side of the original building and beyond — contains spaces that will perform double duty. The Costello Community Room, adjacent to the new Marvel Theatre entrance, can serve as a classroom by day and as a gathering spot by night for pre-concert talks and post-performance receptions. The second-floor Merrins Dance Theatre will function as both a large dance classroom and performance space, equipped with state-of-the-art lighting and sound equipment and retractable seating that can accommodate nearly 80 audience members.
Also housed in the expansion are two additional dance studios, as well as offices and locker rooms for Dance program faculty and students; spacious art studios for ceramics and sculpture, and a dedicated shop for painting theatre drops and set pieces. Two large acting classrooms with high ceilings can accommodate most any acting activity — even stage combat classes in weapons such as broadsword and single sword, Loughlin noted.
"These studios are also large enough to allow us to use them as rehearsal rooms that are the actual size of both our stage footprints," he added. Rehearsals for two different shows can take place simultaneously in two different rooms.
The shuffle from Dods Hall to Rockefeller will be a boon for the Dance program. A three-fold increase in dedicated program space will enable Dance to expand course offerings and accommodate more majors. Additional students from other disciplines can also be more easily accommodated.
Fredonia had a long history of a Dance minor, but no major, when Professor Helen Myers arrived on campus in 2005 to create and coordinate the B.F.A. program in Dance. What began as a handful of Dance majors in 2007 has grown to approximately 30; there are also another 300 to 400 non-majors enrolled in dance courses every year.
Relocation to Rockefeller, the anticipated debut of a B.A. in Dance in 2017 and a recent new dance faculty hire are expected to spur even more growth, Ms. Myers explained. "With the new facilities, curriculum and faculty, we will be able to expand our class offerings and anticipate growing to 50 Dance majors, while serving 500 students taking dance classes each year."
"It's an exciting time for Dance at Fredonia," Myers added.
Samantha Kenney, associate professor of Dance and the incoming chair of the Department of Theatre and Dance, believes that these substantial changes in the program will clearly illustrate to prospective students how important the arts are at Fredonia, and will encourage them to pursue their studies here.
Since its inception, the Dance program has been based in Dods Hall, so it's always been physically isolated from other arts programs.
"I think that having all of our arts programs under one roof will go a long way toward fostering a deeper sense of community and shared purpose across the disciplines," said Ms. Kenney. "Being in the same space will give both students and faculty in the Department of Theatre and Dance, the Department of Visual Arts and New Media and the School of Music, a clear and more immediate window into each other's educational and creative processes, which will undoubtedly lead to greater interest in, and opportunity for, collaborative work."
For Visual Arts and New Media, new spaces in Rockefeller will yield opportunities for new methods and materials to be introduced, as well as enhanced flexibility in course scheduling, Booth noted. "The sculpture and ceramics studios in the new addition are significantly bigger than what we've had. Well equipped, these new spaces will provide students a safe and functional facility in which to work and learn," he said.
Portions of the original building have been renovated and re-purposed and now house new digital design labs and drafting studios for Theatre and Visual Arts and New Media departments. There's also a much more welcoming entrance for Marvel Theatre, as well as new administrative offices.
Honoring I.M. Pei's vision
Deborah Berke Partners, a New York City-based firm noted for public, institutional, and commercial work, was tasked to design the project. Its impressive client list includes Bard College Conservatory of Music, Yale University School of Art and the Richardson Olmsted Complex in Buffalo.
The firm successfully integrated the original design created by the renowned I.M. Pei and Partners.
Rockefeller and four structures (Maytum Hall, Reed Library, McEwen Hall and Williams Center) comprise what's known as the modern campus core and are distinguished by distinctive geometric shapes and (Fredonia Buff) beige poured-in-place board-formed concrete.
The addition, attached to the west side of the original building — the former loading dock space — reflects an inversion of Rockefeller's existing material design of long concrete walls by presenting metal and glass walls with accents of concrete details, with zinc and glass serving as the dominant building materials.
Strong horizontal lines of the west exterior elevation of the addition blend nicely with the north elevation of the original building in terms of line and massing, Rees explained, while the strong vertical elements of the glass curtain wall in the west elevation are strongly related to the verticality of the King Concert Hall glazing.
To "individualize" the design statement of the addition, Rees said the architect chose to run the form boards diagonally, instead of vertically, as was done in the original building, in many above-grade areas of the new structure.
Rees also noted that the first- and second-floor promenade hallways that run the length of the addition, between the old and new buildings, feature the unaltered original exterior wall of the Pei building. "This will complete the visual and structural marriage of the two buildings," Rees said.
The general contractor for the $39 million project, underwritten by the SUNY Construction Fund, is Northland Associates, Inc., of Syracuse, N.Y. Construction management has been provided by Campus Construction Management Group, Inc., of Pittsford, N.Y.
New York State Senator Catharine Young played a key role in securing capital funding for the project, while added support was provided by New York State Assemblyman Andy Goodell and Regional Director of Design Anne Garrity of the SUNY Construction Fund.
Building design and construction techniques will bring the building and renovation to LEED (Leadership in Energy and Environmental Design) Silver designation. LEED-certified buildings are resource-efficient, using less water and energy,
and reduce greenhouse gas emission. They also save money.
A bio-retention area collects storm-water runoff and channels it to an underlying filter bed material, situated beneath native plants and shrubs, so rainwater doesn't overburden the storm water system.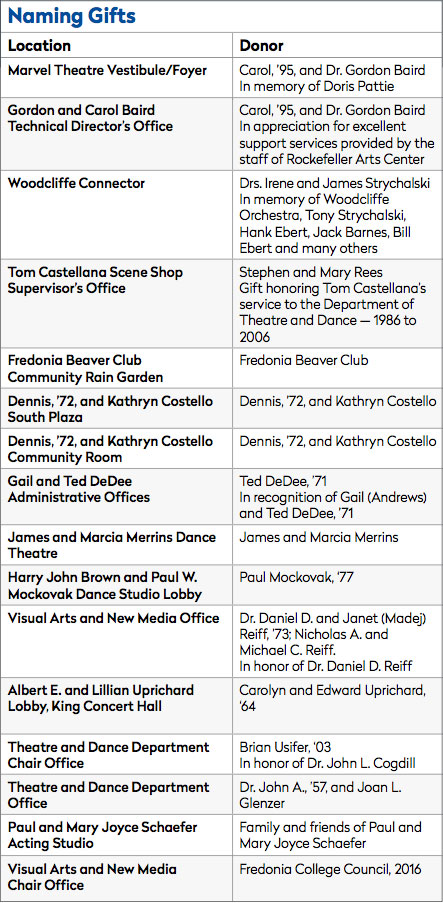 Cusp of an exciting era
"The project was undertaken not so much to allow us to do more (academic) programs, but to allow us to do what we currently do, better," said Jefferson Westwood, longtime director of Rockefeller Arts Center. "The original building was not really designed to accommodate the level of activity we've had for the last 20 years." Westwood anticipates a boon in instructional and co-curricular programs in the fine and performing arts.
Even with three performance venues, Rockefeller was equipped with only one "green room," which Mr. Westwood says creates very crowded conditions backstage on the evenings having multiple events. Bartlett Theatre now has its own green room, and School of Music ensembles will be able to utilize the spacious Robert and Marilyn Maytum Music Rehearsal Hall as its own green room on nights that Rockefeller's green room is dedicated to a Marvel Theatre show.
Music students will gain easy and comfortable access to Rockefeller — even in challenging Western New York weather — through an enclosed temperature-controlled walkway that links Mason Hall to Rockefeller.
"The connecting corridor will allow us to move instruments securely from Mason to King Concert Hall without having to brave the elements," said School of Music Director Melvin Unger. "We will be able to handle percussion instruments more efficiently by storing them in Mason and then moving them to King for performances without the need for a delivery truck."
Chair of Percussion Karolyn Stonefelt was introduced to the percussion "commute" between Mason and Rockefeller as a sabbatical replacement for Professor Theodore Frazeur in 1989. Back then, students hauled massive amounts of equipment back and forth, oftentimes several days a week, in all kinds of weather. That method of portage took a toll on the instruments, Dr. Stonefelt said. Campus trucks were used later to transport the instruments.
"The completion of the connector will be a blessing to all of us who move equipment and to the safety of the equipment," Stonefelt said. "Other students, and their instruments, who schlepped through the muddy area between the buildings, in all of the Fredonia weather(s), will be healthier and happier for the connector; I am sure that (technical director) Eric Hadley will be joyful at the lack of mud on his King Concert Hall stage."
In general, students and faculty will be able to move more freely between buildings.
Dr. Unger says it's always been his desire to see more integration of the visual and performing arts at Fredonia, and a physical connection between the two buildings is an important step in this direction. Student leaders in the School of Music and Department of Visual Arts and New Media are currently spearheading an initiative to exhibit student art work in Mason, he noted.
"This is just one example of how we can demonstrate the interpenetration of the arts — the potential of the creative arts to inspire one another. As the relevance of the arts comes under increased scrutiny, our role in demonstrating their interconnectedness and importance in society becomes increasingly important," Unger said.
Grand opening at Homecoming
Rockefeller's rebirth will take center stage during Homecoming weekend on Oct. 21-23. Over the past year-and-a-half, the Opening Ceremony Committee, co-chaired by Blasting and June Miller-Spann of the Fredonia College Foundation, met regularly with artistic chairs to develop and plan the festivities.
The formal ribbon-cutting ceremony will take place on Friday, Oct. 21 at 11 a.m. at the new west entrance near Marvel Theatre. An open house of Rockefeller, with individual ribbon-cuttings at named spaces and student-led tours of the addition, will get underway at 12:15 p.m. Tours continue until 3 p.m.
The current 16 named spaces recognize generous support of the arts at Fredonia by donors through a naming opportunities initiative led by Ms. Miller-Spann in her role as foundation liaison to the College of Visual and Performing Arts. A graduate of the Visual Arts department in 1994, Miller-Spann commented that the RAC addition is a masterpiece and how fortunate Fredonia students are to have access to the state-of-the-art facility.
"It makes me want to be a student again!" she remarked.
The Homecoming Excellence Gala, celebrating the Rockefeller project and honoring two alumni, Allan Dennis, '70, and Christopher Mirabelli, '71, as Outstanding Achievement Award recipients, will be held in the Williams Center Multipurpose Room on Friday at 5 p.m. Tickets are $50 a person with limited seating capacity. Eastman School of Music piano professor Tony Caramia, '73, will perform at the gala. Miller-Spann, who is overseeing the design and organization of the gala dinner, promises the experience will heighten all of the senses.
President Horvath has had the opportunity to be a part of two exciting capital projects, the Science Center and now, Rockefeller. "In some ways, each reflects a proud tradition at Fredonia, now strengthened through designs to support learning in the 21st century," she said.
"When I became Fredonia's 13th president in 2012, I felt privileged to continue this vision set by Dr. Dennis Hefner in his presidency. It will be an honor to join him at the RAC dedication, as in the Science Center dedication, to celebrate this new era of Fredonia's history," President Horvath said.