From the sound board to the GRAMMY board; John Poppo, '84, Chairman of The Recording Academy's Board of Trustees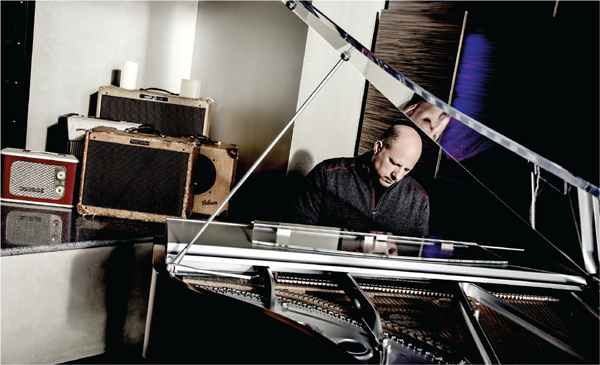 John Poppo, '84, Chairman of The Recording Academy's Board of Trustees.
---
The GRAMMY Awards are Music's Biggest Night®. For more than 50 years, they have celebrated the best in the business, honoring achievements in the recording arts and sciences, and supporting the music community. They recognize artistic achievement, technical proficiency and overall excellence in the recording industry — without regard to album sales or chart position, and as determined by one's peers. The Recording Academy, which produces and presents the GRAMMYs, is the music industry's most respected professional membership-based organization — and in June 2015, a Fredonian was elected to its highest office.

John Poppo, '84, a producer, engineer, songwriter and musician, whose various credits can be found on the records of pop icons like Michael Jackson, Janet Jackson, Mariah Carey, NSync, Madonna, Seal, Luther Vandross and Al Green, became Chair of The Recording Academy Board of Trustees.

It's been a long and rewarding career path for Mr. Poppo, a Long Island native who today spends his life flying back-and-forth between his Westchester, N.Y., home/recording studio and the academy's Santa Monica, Calif., headquarters. But if you ask him, he swears that the most significant stop along his journey was Fredonia, N.Y.

Poppo was not your typical 18-year-old when he went to college. Many students hope to discover their passions or find the inspiration for a lifelong career. John, however, had a very clear path in mind.

"I wanted to get out of school and make records. And I wanted to be able to do the whole thing without having to depend on anyone else," he recalls, "from writing the song to singing it, arranging and playing the instruments, and finally even recording and mixing it."

He was a self-taught piano player, writing his own songs, playing in bands, and modeling himself after late-1970s stars like Billy Joel and Elton John. However, during his junior year of high school, he immersed himself. He began taking professional lessons to advance his skills and prepare him for college auditions, while paying for them with money he earned playing in bars until 4 a.m. (even though he was too young to be there).

John was sharply focused. He wanted to be involved with music in every way he could imagine, and as he looked at possible colleges, he felt that Fredonia was the best fit for him.

Poppo works with R&B legend Al Green, center and producer Danny Madden at Quad Studios in New York City.

"I needed a school where I could develop all of the various crafts and skill sets I would need, both musical and technical," he says. "At the time Fredonia was — and still is, really — the flagship music school in the SUNY system. It had a great reputation. Everybody I knew who was serious about music was going there."

However, what really excited him was Fredonia's new Sound Recording Technology (SRT) program, which was modeled after the German Tonmeister curriculum.

"I had a pretty good head for science and technology, and I knew how important the recording and mixing skills would be if I didn't want to have to rely on others to make demos. I also figured it could be a foot in the door to the studios and recording industry if I had these skills. And this was a pioneering program," he explains. "It was a very classical approach to sound recording, created and headed up by a brilliant and wonderful man named Dave Moulton, and [Fredonia] was offering a Bachelor of Science that was, for all intents and purposes, an engineering degree."

The curriculum was filled with calculus and physics requirements, which John knew would appease his father, who wanted to make sure he was earning a degree that would make John employable.

"My dad wanted to be sure I wasn't going to be waiting tables when I graduated – you know, while I was embarking on my very safe and secure career path of becoming a 'rock star,'" John laughs.

So combined with its excellent music program, Fredonia offered Poppo the best of both worlds.

"But my first love was always really the music and creative side of it. I wanted to make sure I could also be on the other side of the (recording room) glass when I got out [of college]," he says.

From left: Poppo poses with one of his production/management/development company artists, Chelsea Chris, at Nile Rodgers' "We Are Family" Foundation gala; with pop superstar Taylor Swift at a recent Recording Academy event; and with *NSYNC, while producing its "Home for Christmas" album in 1998, which has sold over 4 million copies worldwide.

---

Lucky for him, he found Phyllis East.

One of Fredonia's most admired piano professors, Mrs. East took the time to listen to what John wanted out of his Fredonia experience. Despite the fact that he had only about six months of true classical piano training, she dedicated the time that it would take to help him reach his goals.

"I remember John so very well!" East recalls even 35 years later. "When John arrived at Fredonia, he was the first freshman to approach me on registration day."

Poppo told her that he was going to be a real challenge, because he couldn't read music.

"I thought he meant 'sight read,' but…he could barely read the notes on the page," she says. "John worked very hard as a freshman to get through the requirements, and he had the ability…but it was difficult."

Then John threw her a curve ball she wasn't expecting. SRT majors were only required to study piano for one year. However, after his jury performance, John informed East that he wanted to continue his piano study and add a second major — a Bachelor of Arts in Applied Piano.

"He said I looked as if I might have a heart attack!" East remembers.

But again, John worked very hard, determined to follow through on his dream.

"His progress was truly remarkable," East attests. "Three years later, he performed an Honors Recital which included the first movement of Prokofiev's Third Piano Concerto," says East.

"Next to the Helen Keller story, Phyllis East is the best 'Miracle Worker' I know," Poppo jokes. "She was a Godsend to the school and certainly to me."

"All in all, Fredonia had a full-blown, multi-track studio facility with a plethora of fine musicians to record and work with," he adds.

Fredonia also offered courses or private instruction in music theory, composition, electronic music, voice, piano, recording, electronics, acoustics, recording and mixing.

"I took them all, and then some!" he says. "I couldn't get enough, and was running 18 to 21 credits a semester, while asking for permission to audit others. I was so hungry. Today they even offer a Music Industry degree!"

After Fredonia, John moved to New York City and started looking for work as a recording engineer, which he planned to do to "pay the bills" until he was able to break into the performing, writing and producing side. He soon realized, however, that it was just as hard to break into the technical side of the business.

"You had guys working in tape libraries, as custodians in the studios, interns working for free for six months," he attests. "The dues you had to pay to become an audio engineer were anything but a stepping stone; they were more like an insurmountable mountain!"

Despite that sudden wake-up call, John was undeterred. He was also smart enough to track down some Fredonia alumni to see what advice or opportunities they might offer. One of those was Mark Mandelbaum.

"The nice thing about Fredonia was that there was a real network — a real loyalty, a nice sense of family — and graduates looked out for each other," Poppo says.

Mandelbaum worked at a small studio called INS, a "boutique shop" in New York City, and was looking to move on, but hoped to be able to help find his replacement first. He told John about it and invited him to come down to meet with him and check out the studio.

"Mark was very good to me," John recalls. "I had actually just met him. He didn't know a lot about me other than the fact that I'd gone to Fredonia, but he introduced me to the owner and was instrumental in getting me the job, which effectively kick started my whole career."

At that time, the hip-hop genre was gaining momentum and dance music was starting to grow in popularity as well. Both were largely electronic-based, and technology was integrating into the recording industry at an exponential rate."

"Suddenly there were tools like midi, digital samplers, synthesizers, keyboards, drum machines, and even computers," Poppo explains. "INS was a small room, ideal for catering to those genres and some great independent record labels, so almost overnight the studio became a hot spot, churning out hits, and I became its Chief Engineer. It was basically trial by fire. Swim or drown."

John swam. He absorbed everything that other engineers, producers — and even the artists themselves — were willing to teach him. He also found himself at the "ground floor" of a seminal time in music and quickly recognized the opportunity he was being presented.

"Some of these guys weren't showing up with a keyboard or a guitar; instead they came in with a crate of records, a couple of turntables and a digital sampler," he explained. "But it was an art form, just the same; it was innovative and new, and they were making demands and forcing you to push the envelope and figure out how to do groundbreaking things that had never really been done before."

John also got the opportunity to work with and learn from some iconic producers like Jack Douglas (who had produced for Aerosmith, Cheap Trick, and John Lennon), and Sly and Robbie (producers for Bob Dylan, The Rolling Stones, Santana, and Paul McCartney).

As New York City's post-disco dance clubs became more popular, the demand for dance music grew even more, leading to the invention of dance remixes of mainstream pop songs. Poppo left INS and went freelance, working out of many of New York's and Los Angeles' most prominent studios, and teaming up with several prominent DJ/producers, including David Morales of Def Mix Productions, and the infamous "Godfather of House" — Frankie Knuckles, whose debut album was John's first "official" production. They had great success in crossing genres and lighting up club dance floors with new music that brought added popularity to many artists. Record labels were seeing the wisdom of turning records that weren't designed for the dance floor into "remixes," or dance versions, to boost the popularity of their artists.

"We took Mariah Carey's 'Dreamlover,' which was a down-tempo R&B/Pop record of about 80 beats per minute originally, and turned it into a 120-beat-per-minute pulsing dance floor anthem," says Poppo. "We would time-compress, or sometimes even reproduce a whole new track from scratch, and then usually bring the artist back in to re-sing it. So I got to work with so many top artists, and always on their best records!"

The learning experience was invaluable for Poppo, especially because he was able to work from and dissect the original multi-track recordings of some of the greatest artists and producers of the day.

"I still remember the day I got to break down Michael Jackson's 'Thriller,' and study each individual part of that brilliant Quincy Jones/Bruce Swedien production," he says. "It was like getting an honorary Ph.D. in pop music production!"

"We even took ballads like 'Unbreak My Heart,' by Toni Braxton, and made them dance floor records," Poppo adds, incredulously. "It was the gift that just kept giving."

Poppo in the control room at Jungle City Studios in New York City.

---

Despite his success as an engineer, Poppo was determined to return to his plan and progress to the next level, to become a producer and songwriter.

He found himself having to turn down some engineering offers that had a clear income stream, in order to take a chance to show off some other abilities, even if it was purely speculative. He built his own studio in Times Square and spent a lot of time doing his own productions and writing songs, for free.

"It was a little risky and kind of counterintuitive, but it's the only way to really get ahead in a business where you never really stop having to 'audition' and prove yourself," he explains. "You have to be willing to gamble and continually re-invent yourself."

It took a couple of years, but ultimately he signed an international publishing deal with BMG and began producing records for major label artists, including the 1990s chart-topping iconic boy band, "NSync," which began the career of current pop megastar Justin Timberlake. Poppo also wrote music for the album.

"Again, so much for the 'stepping stone' theory,'" he says. "It wasn't the easiest transition because it's a business that is very easy to get pigeon-holed in. Everybody likes to put you into a neat little box and you have to work to change their perception."

Today he owns Pop Productions, Inc., a production, management and artist-development company, where he discovers and cultivates young, up-and-coming artists. He guides them through what it takes to make it in today's ever-changing music entertainment business.

One of his most promising artists is Chelsea Chris, a 24-year-old singer, songwriter, musician and dancer whom Poppo has mentored and developed for several years and describes as one of the most talented artists he has ever worked with.

From left: Poppo walks the red carpet at the GRAMMY Awards; sharing a laugh with Lady Gaga and Tony Bennett backstage at their Radio City concert in New York; overlooking the New York skyline.

---

In John's "spare time," he is very engaged with The Recording Academy. As a music creator, he had been a member of the academy for a long time (and he encourages everyone in the music industry to join, including students, for whom there is a GRAMMY U membership). However, about 12 years ago, he was asked to run for a seat on the National Board, which caused him to learn a great deal more about the organization.

"I was blown away," Poppo attests. "There was so much more to it than I'd realized."

It went far beyond the obvious GRAMMY Awards. He hadn't fully understood the many ways it serves its members and the community at large, and he was drawn to the role, in part, to help spread a broader knowledge of the organization.

"It was very intriguing, and provided a nice way for me to give back," he adds.

He especially liked the academy's collegiality, the opportunity it offered to collaborate on advocacy initiatives (particularly as digitalization and the Internet were presenting major challenges to the industry), the commitment it made to education — especially in the K-12 curriculum — and the fundraising it was doing for worthy music-related charitable causes.

"For example, last year, at our MusiCares Person of the Year tribute, honoring Bob Dylan, we grossed over $7 million for musicians in need," Poppo reports.

The path to his board chair role has been a progression of over 12 years, which included chairing its Planning and Governance Committee and serving on its Finance, Awards and Nominations, and Executive committees, and as the board's vice chair.

"It has definitely become a bit of a consuming organization," Poppo jokes. "My wife, Loisann, and two daughters for that matter (Giana, 16, and Aniella, 14) fondly refer to me now as 'Mr. Not-for-Profit' — that is, of course, until I bring them to the GRAMMYs, when I suddenly become 'the cool dad,' again, for a brief moment!"

His volunteer time also includes giving back to Fredonia, where he serves on its National Advisory Board for the College of Visual and Performing Arts, guiding it on curricular and other strategic issues.

"I have nothing but fond memories and gratitude for Fredonia and the extraordinary faculty there," he insists. "Going there was the best decision I ever made, so when they approached me, I didn't even have to think about it."

He's pleased to see the addition of new equipment and facilities, introduction of new curriculums like Music Industry, and the work of today's faculty, encouraging the development of a broader skill set within today's graduates. He especially enjoys meeting professors who stay in touch with the music business and are honest in sharing its realities with today's students.

"The problem I have with some music programs today is that they can be a little bit isolated; trying to exist in a vacuum or a very archaic landscape," Poppo notes, "and some of the faculty…they can be a little bit close minded, or elitist."

He is concerned by universities that remain too rigid and myopic in their views, discounting worthwhile genres of music like jazz and pop, which ultimately limits their graduates' options.

"They need to be reminded of the fact that, at the end of the day, there are only so many symphony orchestras or opera houses out there to work for," he says.

Poppo cringes at those schools who just accept students' tuition without presenting these sobering industry facts at the onset, a practice which he finds unconscionable.

"Part of our responsibility in higher education is to advise these kids — and their parents — of the realities of this business," he stresses. "At Fredonia, you have the classical studies in composition or performance, but you also have other genres, and the SRT, Music Industry, Music Education and Music Therapy programs. You have faculty who are open minded and in touch with the industry. It's a school that's designed to do more than graduate only classical concert artists who may not find a job upon graduation."

Poppo feels strongly that universities need to make sure that their students are exposed to the many avenues of opportunity in the music field, so that they understand the need for a diverse education.

"That will give them a greater chance of ensuring a future in this business, doing something that they love," he counsels.

It's "sound" advice, indeed, and if today's Fredonia graduates love their careers even half as much as Poppo loves his, they will feel very fortunate — and accomplished.

---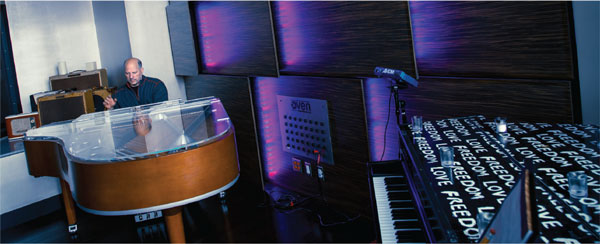 John Poppo composing at Alicia Keys' piano/Oven Studio in New York.