Actress and alumna Mary McDonnell to return to Fredonia on Homecoming Weekend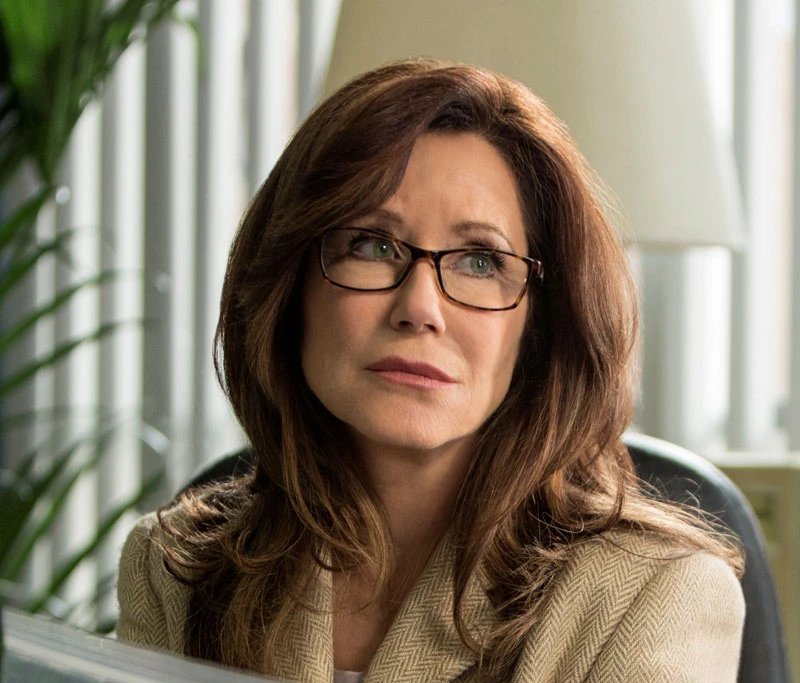 Fredonia will welcome two-time Oscar, Emmy, and Golden Globe-nominated actress Mary McDonnell, Fredonia Class of '74, back to campus on Homecoming Weekend, Oct. 19-21.
She will join Department of Theatre and Dance Associate Professor Jessica Hillman-McCord at 3 p.m. on Saturday, Oct. 20, in Robert Marvel Theatre for "An Afternoon with Mary McDonnell," in what promises to be a lively and informal conversation about the actress' life and career on the Broadway stage, in film and in television. Ms. McDonnell will also take questions from the audience.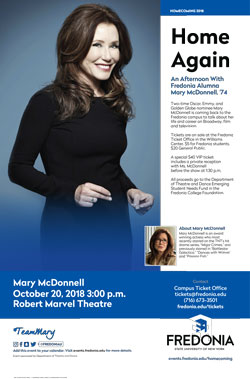 Tickets are $5 for Fredonia students, $20 for the general public and $40 for a VIP ticket which includes a private reception with McDonnell at 1:30 p.m. Tickets are available at the Fredonia Ticket Office in the Williams Center on campus, by calling 716-673-3501 or online at https://www.fredonia.edu/tickets/
All proceeds from the event will be directed to the Department of Theatre and Dance Emergent Student Needs Fund established in the Fredonia College Foundation.
"You don't need me to tell you that Mary McDonnell is an outstanding actor," said Dean of the College of Visual and Performing Arts Ralph Blasting. "But I was able to see her on stage in 'The Cherry Orchard' at People's Light theatre a few years ago, and she was incredible. We are very happy that she'll be visiting Fredonia and has agreed to donate her time to help us establish this new scholarship fund."
McDonnell received her first Oscar nomination and Golden Globe nomination for her portrayal of 'Stands with a Fist,' in Kevin Costner's 1990 Oscar-winning film, "Dances with Wolves." McDonnell also garnered a Best Actress Academy Award nomination and Golden Globe nomination for her portrayal of a paraplegic soap opera star in John Sayles' critically acclaimed 1992 "Passion Fish." McDonnell's film credits include the Lawrence Kasdan films "Grand Canyon" and "Mumford;" "Sneakers" opposite Robert Redford, Sidney Poitier and Sir Ben Kingsley; Roland Emmerich's smash "Independence Day," with Bill Pullman and Will Smith; the acclaimed art house cult-hit "Donnie Darko," and "Margin Call" opposite Kevin Spacey, which also earned her the Robert Altman Award at the 2012 Independent Spirit Awards.
Television viewers know her as President of the Universe in "Battlestar Galactica," and as 'Captain Sharon Raydor' on the TNT's hit drama series "Major Crimes" the spinoff series from "The Closer," where McDonnell originated the role and earned a Primetime Emmy nomination.
Her role in four seasons on the Syfy Network's award-winning series as the President of the Universe, 'Laura Roslin' earned McDonnell a Peabody Award, and the American Film Institute deemed the series 'TV Program of the Year' for two years in a row. She also garnered an Emmy nomination for her recurring guest role on the television series "ER." Other television credits include the critically acclaimed third season of FX's "Fargo," ABC hit-series "Grey's Anatomy," the CBS series "High Society," TNT's adaptation of Arthur Miller's "The American Clock," the critically acclaimed CBS movie "Behind The Mask" and Lifetime's "Two Small Voices."
McDonnell began her career in theatre and has starred in a wide variety of both Broadway and off-Broadway productions. She received an Obie Award for her performance in Emily Mann's "Still Life" and has starred in off-Broadway productions such as Sam Shepard's Pulitzer Prize-winning "Buried Child," John Patrick Shanley's "Savage in Limbo," John O'Keefe's "All Night Long," Michael Cristofer's "Black Angel," Kathleen Tolan's "A Weekend Near Madison," Paula Cizmar's "Death of a Miner" and Dennis McIntyre's "National Anthem." Her Broadway credits include Tennessee Williams' "Summer and Smoke," the title role in Wendy Wasserstein's Pulitzer Prize-winning "The Heidi Chronicles" and Emily Mann's "Execution of Justice."
McDonnell was Fredonia's keynote Commencement speaker in 1999 and in 1992 was the recipient of the alumni association's Outstanding Achievement Award. She also received The Gena Award (named after actress Gena Rowlands) from The Palm Springs Women in Film Chapter at its Broken Glass Awards in 2016, and was honored by Women in Cable Telecommunications at its LEA Awards 2017 for her Leadership, Excellence and Advocacy. Most recently, she received the Lifetime Achievement Award at the 2018 PELL Awards at Trinity Repertory Theatre's annual gala.