Alumni writers in residence series to focus on career advice in non-profit world
Insight into what it's like to work in the non-profit world, utilizing writing and other communication skills, will be shared by three graduates of Fredonia – Heather (Mansfield) McKeever, Carol Pulver and Rich Ryan – when they return to their alma mater, Sept. 20-22, for the first Writers@Work alumni residence series of the 2018-2019 academic year.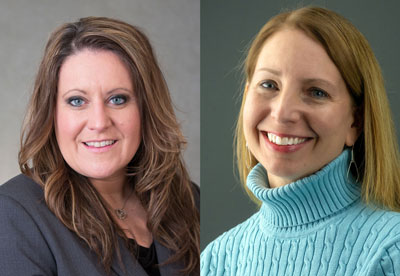 All three have strategic roles in non-profit organizations in Western New York and represent very different areas of non-profit sphere: scientific not for profits, health and the arts. Ms. McKeever and Mr. Ryan also have an additional tie to their alma mater. Both previously served as associate directors of development in the University Advancement division, where they collaborated with alumni, friends, foundations, corporations and organizations to raise funds to support university goals.
Ms. McKeever, '00, (left) is executive director of the Western New York chapter of the Cystic Fibrosis Foundation, a national organization that supports research focusing on treating those afflicted with cystic fibrosis and advancing research and drug development. At Fredonia, McKeever was a major and planned gifts officer for 13 years.
Mr. Ryan, '04, is director of development of the National Comedy Center, the nation's first non-profit cultural institution dedicated to the celebration of comedy as an art form, located in Jamestown, hometown of legendary comedian Lucille Ball. Its 37,000 square-foot museum delivers an interactive exhibit experience for visitors through more than 75 exhibits and archival pieces, as well as innovative programming to cultivate future writers, directors and performers. At Fredonia, Ryan was responsible for corporate and foundation relations, major gift development and special events for 11 years.
Ms. Pulver, '90, (right) is director of user support and randomization services at the Amherst, N.Y., office of Frontier Science Foundation. With six offices around the world, Frontier Science provides a comprehensive range of research services that include data management, design, analysis and reporting of clinical trials and is funded by the U.S. National Institutes of Health, pharmaceutical companies and other organizations. Studies related to cancer and HIV are a primary focus.
Writing for non-profits will be explored in "Advancing the Common Good: Working for Nonprofits," a joint panel discussion conducted by McKeever and Ryan, on Thursday, Sept. 20, 7 p.m., in Fenton Hall Room 105. A question/answer session is included.
On Friday morning, Sept. 21, the trio will deliver separate presentations devoted to different forms of writing for non-profits in Williams Center Room S204-ABC.
"Writing for Nonprofits: From the Desk of the Executive Director," McKeever's talk at 9 a.m., will explore the art of persuasive writing, how to tell a story and make "the ask." The importance of stewardship and cultivation and building relationships through personal notes will also be addressed, as will the simple act of saying thank you to build lasting donor support.
Before joining University Advancement in 2004, McKeever was a special events coordinator with the Muscular Dystrophy Association and director of the Boys and Girls Club. She also served as a trustee and mayor of the Village of Gowanda. McKeever has a B.S. in Communication – Media Management and an A.S. in Human Services from Alfred State College – SUNY College of Technology.
"A Priest, a Rabbi and a Donor Walk into a Bar…Using Creative Writing to Gain Support for the National Comedy Center," the 10 a.m. talk by Ryan, will focus on utilizing comedy writing – either his own or from others – to make the case for financial support of the center. The 37,000 square-foot museum delivers an interactive exhibit experience for visitors through more than 75 exhibits and archival pieces, as well as innovative programming to cultivate future writers, directors and performers.
"Prospective donors – individuals, corporations and foundations – are bombarded with information from causes trying to win their support. The National Comedy Center has been a great success over other causes as we have focused on the common denominator…laughter is the best medicine," Ryan said.
Conceptualizing and launching a membership program and building a $20 million operating endowment to ensure the center's long-term sustainability are among Ryan's chief duties.
Before joining Fredonia in 2006, Ryan was grants coordinator and program officer of the Northern Chautauqua Community Foundation. He has a B.S. in Communications – Public Relations.
"The Art of Writing SOPs," the 11 a.m. presentation by Pulver, will address SOPs (standard operating procedures) and also emphasize the great need for technical writers with this competency. Pulver will discuss the significance of each section of Frontier Science's SOP template, guidance in completing the template, as well as the interesting issues that had to be resolved in order to finalize the template. A brief overview of clinical trials and the importance of SOPs in conducting research, along with explaining why SOPs are essential to software development and validation, will also be included.
Pulver has 26 years of experience developing and implementing computing solutions within the clinical trial data management and medical research field. She advises data management teams as to the best possible means to organize their workflows in an efficient and cohesive manner to ensure data integrity and quality. She is an effective communicator and collaborator with various clinical research representatives, including research sites, sponsors, contract research organizations, regulatory specialists, pharmacists, statisticians and software programmers.
Pulver has a B.S. in Computer Science and Mathematics and earned an MBA from the University at Buffalo in 1996.
McKeever will also share brief remarks about her experiences at Fredonia and the role they have played in her professional achievements at Fredonia Exploration Day, an event for prospective students, on Saturday, Sept. 22.
Writers@Work, a joint initiative of the departments of English, History, Business Administration, Communication and Theatre and Dance, in partnership with the offices of Alumni Affairs, Career Development, Admissions and the Fredonia College Foundation, attracts alumni with a variety of educational backgrounds to meet students in informal settings that explore how writing and the study of the humanities can benefit them in their careers.
The series is funded by the Fredonia Alumni Association, the Fredonia College Foundation's Carnahan Jackson Humanities Fund and Mary Louise White Fund, and the Faculty Student Association.