'Opening Doors' program to offer leadership stories, strategies for students
"Opening Doors," a campus-wide program featuring leadership stories and strategies offered by campus and student leaders, will be held on Saturday, Sept. 18, from 12:30 to 3:30 p.m., in the Science Center's Kelly Family Auditorium.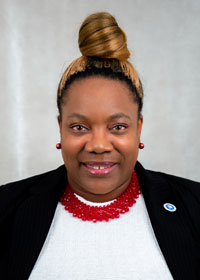 Executive Vice President and Provost David A. Starrett, Chief Diversity, Equity and Inclusion Officer Vicki T. Sapp and Interim Vice President for University Advancement and Executive Director of the Fredonia College Foundation Betty Gossett will share anecdotes or memorable pieces of advice that helped open doors to roles and opportunities they might not have imagined.
Student leaders will share their experience, offer leadership exercises and be available to discuss opportunities to get involved on campus.
Peter Howlett and Erin Vaughan, members of Omicron Delta Kappa Honor Society, will present "Student Leadership in Action." A presentation will also be given by Abby Hart and Jody Gordon, students involved with sustainability on campus.
Masks must be worn indoors. Pre-registration online is requested so organizers can plan accordingly.
Light refreshments will be served from 12:30 to 1 p.m. The Opening Doors program is being presented by the Fredonia Honors Program and is free and open to all students. The Honors Program, which has over 400 students in more than 60 majors, is committed to offering students well-rounded opportunities to learn, lead and live throughout their undergraduate experience.