Alumni named to Business First's '40 Under 40' list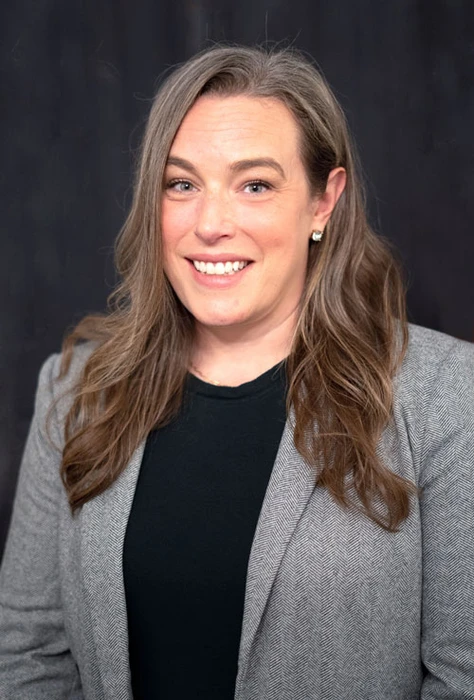 Buffalo Business First has recognized three SUNY Fredonia alumni as members of its "40 Under 40" Class of 2022.
Since 1992, the weekly business publication has honored 40 dedicated and driven individuals for their professional success and community involvement in Western New York. SUNY Fredonia graduates are often placed on the annual lists.
Kate (Mori) Heidinger, who graduated in 2005 with a degree in Psychology, is director of development of The Foundations of Catholic Health. Building and maintaining relationships with philanthropic foundations that support innovative and mission-driven work throughout Catholic Health are among her primary responsibilities. She also manages the Advancement Services team that includes the Annual Fund, Grateful Patient program and donation processing.
Ms. Heidinger's team raised more than $4 million to fund projects such as the development of Lockport Memorial Hospital, programs such as Nurse-Family Partnership, training for Vascular Surgery fellows and specialty equipment for NICU babies.
"Catholic Health has always held an important place in my heart – Mercy Hospital of Buffalo is my neighborhood hospital where I've received great care as have other family members, and my son was born at Sisters of Charity Hospital where we received tremendous care," Heidinger said.
As a member of the Western New York chapter of the Association of Fundraising Professionals, Heidinger had the opportunity to volunteer alongside Craig Harris, her Catholic Health manager and a '98 SUNY Fredonia graduate, when their terms on the board overlapped.
By encouraging her to strive for more than she thought was possible or achievable, SUNY Fredonia helped prepare Heidinger for career success. "At Fredonia I had professors who presented material in new ways, and the smaller class sizes allowed them time to understand what was challenging me and guide me to not only understand information but excel at the content," Heidinger explained.
She fondly remembers the "incredible patience" and persistence of Department of Psychology Professor Dani McKinney, who taught a very difficult course in neurology that "really pushed me to improve my study habits," Heidinger said. Dr. McKinney enabled Heidinger to excel in the course by changing the way she approached classwork, and that continues to impact her day-to-day work.
The late Professor Emeritus of Sociology and Anthropology Jere Wysong had the most profound impact on Heidinger. "His courses on the sociology of peace and violence, and sociology of poverty were absolutely eye-opening. These are heavy topics that he made approachable through warm and open in-class conversations," Heidinger recalled. It was through Dr. Wysong's courses that Heidinger strived to understand how she could improve conditions for people who are experiencing difficult situations.
"He took weighty topics and not only humanized them, but helped us to understand both the root causes and implications," said Heidinger, who went on to earn a M.S. in Organizational Communication and Leadership at Canisius College.
"His courses are the foundation to my work today, as I work to connect the public's generosity with vital services such as improving access to quality healthcare for everyone regardless of financial condition. I am a fundraiser because of Dr. Wysong."
As a member of Student Association, Heidinger found life-long friendships and ample opportunities to work in conjunction with school leadership. Student Association also served as a springboard for Heidinger to become a student representative on the university's Strategic Planning committee and ultimately introduced her to new career possibilities.
Also named to the "40 Under 40" list are Nick DelBello, who earned a Mus.B. in Music Education in 2008 and is a conductor with Buffalo Opera Limited and a music educator; and Lynne (Bona) Ruda, who earned a Mus.B. in Music Education in 2007, a Performer's Certificate, and master's degree in Music Education in 2009, is a music educator and mayor of the village of Lancaster, N.Y. Ms. Ruda was also among 10 Finalists for the 2020 Music Educator Award presented by the Recording Academy and the GRAMMY Museum from more than 3,300 initial nominations from 50 states.