Art students complete project for local business
This past summer, two B.F.A. Painting students were given the opportunity to leave their mark on a local company and employer.
Dunkirk Specialty Steel (DSS) first reached out to Department of Visual Arts and New Media Chair Michele Bernatz in July 2018, searching for students who would be able to work on a painting project. Soon after voicing their interest, senior Erin Ruffino and sophomore Alisia Glasier met with Joshua Warren, the project's supervisor and the environmental, health and safety specialist at DSS, to discuss the creation of three large murals at the steel plant.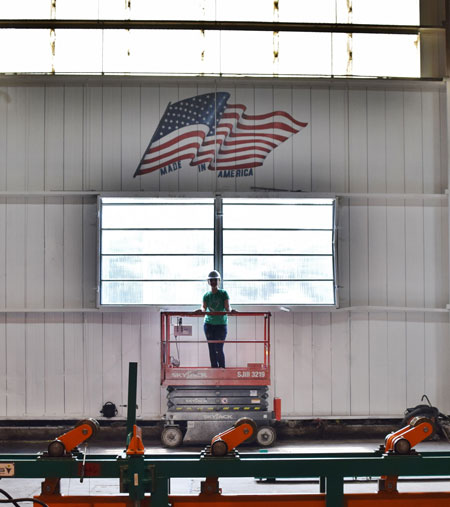 Originally taking off as a project to pay tribute to a new production line at DSS, Warren was interested in pieces that recognized the patriotism of the plant. The first design was an American flag created by Glasier with the words "Made in America" written under it. Ruffino's design featured a bald eagle over an American flag holding a welding mask and steel rods, as well as a shield. The last design, which was a collaborative effort by the two students, included a bald eagle flying over the American flag featuring the company name. The last mural was painted on the back of a piece of machinery.
"Overall, my experience with DSS was amazing," said Glasier, "They were a great company to work for…Our supervisor and the others at the factory were very nice and encouraging, and loved seeing our paintings progress."
Both being Fredonia natives, the pair truly appreciated the opportunity to work with a local organization. Ruffino found that she shared a personal connection with DSS.
"When I began the project, I found out that my grandfather had worked at the plant for over 30 years. So for me even to be inside the factory, knowing my grandfather had been there before, felt a bit like a homecoming," she said.
As a senior, Ruffino is looking forward to her future after Fredonia. Despite the fact that the project was finished Aug. 31, she would be willing to do more projects for DSS. For now, she is focused on going to graduate school to obtain her M.F.A. in painting.
She was especially grateful to her Fredonia family for giving her the skills she needed to complete the designs for DSS.
"This project also made me realize how important art and art education is," she said. "It was the techniques gained from upper-level painting classes and the expertise from the art history course, Street Art and Graffiti [with Dr. Leesa Rittelmann], which provided me the ability to confidently apply skills outside the classroom. I am thankful for the knowledgeable arts faculty at Fredonia and the art department's encouragement to pursue opportunities in-line with my career goals."
Both students were grateful for the opportunity to work together to create multiple pieces for DSS. Their combined efforts will be appreciated at the plant for the years to come.