Borrello to give afternoon Commencement address at SUNY Fredonia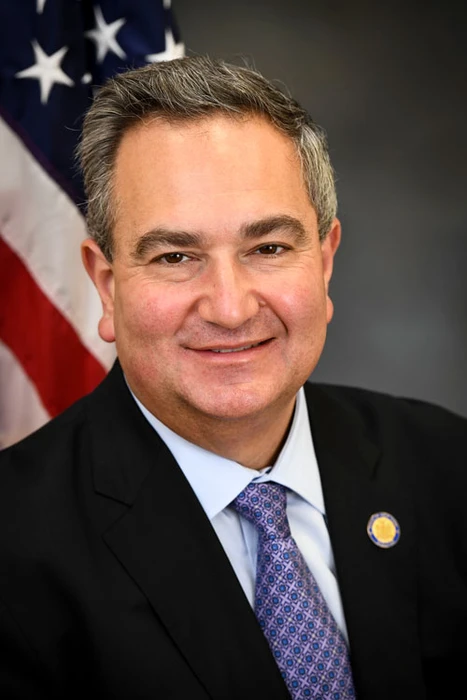 New York State Senator George M. Borrello will give the keynote address at the 3 p.m. Commencement at SUNY Fredonia on Saturday, May 21, in Steele Hall.
Senator Borrello, who represents the 57th District, was re-elected to the New York State Senate in November 2020, one year after winning a 2019 special election for the seat.
A successful businessman and entrepreneur, Senator Borrello founded Top-Shelf Marketing in his early 20s, growing it into a nationally recognized supplier to the hospitality industry. He merged it with another company where he spent 20 years in executive management.
His experiences as a small business owner have given him a firsthand perspective on the tax and regulatory hurdles that burden employers in New York State, and he authored legislation aimed at easing the burdens and providing incentives to innovate and expand. He has also emerged as one of the leading voices against unconstitutional executive mandates and special interests.
As the Ranking Member on the Senate's Agriculture Committee, he has championed legislation to ease tax and regulatory burdens on New York's farmers and led opposition to further reductions in the 60-hour overtime threshold for farm workers. Recognizing the positive impact of the pandemic program Nourish NY, he worked with colleagues across the aisle to make the farm-to-food bank initiative permanent. Other key priorities include: reducing the state's high tax burden, reducing the cost of government through the imposition of a state spending cap, and workforce development initiatives.
Senator Borrello entered public service because he saw the region he loved struggling with many challenges. He served eight years as a Chautauqua County legislator pursuing projects to promote tourism, improve infrastructure, downsize government and clean up run-down properties. Seeking to have an even greater impact, he ran for Chautauqua County Executive in 2017. Among the achievements of his tenure were stronger partnerships with the business community, county budgets that reduced taxes and made record infrastructure investments, and an unprecedented agreement among Chautauqua Lake stakeholders that led to vast improvements in the lake's usability.
Senator Borrello is a graduate of Fredonia High School and received his bachelor's degree from Purdue University.