Buffalo community activist to give poetry performance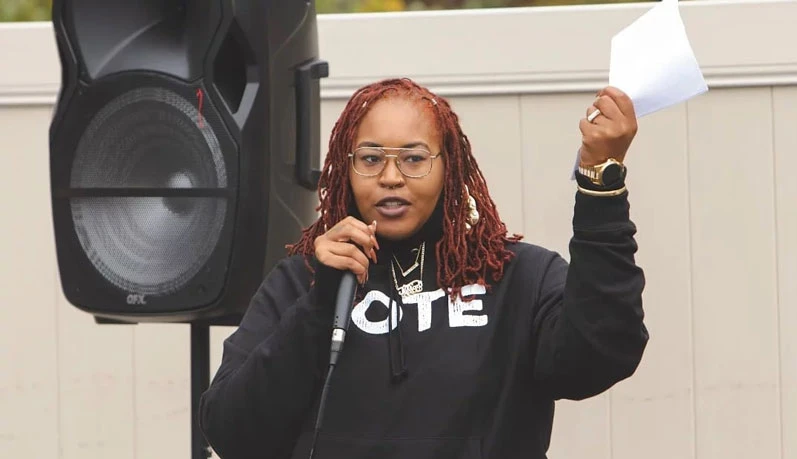 Spoken word artist Jillian Hanesworth, a community activist/organizer in Buffalo and SUNY Fredonia graduate, will give an in-person poetry performance as part of the Mary Louise White Visiting Writer Series at The Spot at Tim Hortons in the Williams Center on Thursday, April 28, at 7 p.m.
Ms. Hanesworth, director of Leadership Development at Open Buffalo, an organization that advances racial, economic and ecological justice, is the first poet laureate in Buffalo. Hanesworth says she truly believes in the power of art and the power of the people, and those beliefs, when combined, embody her art and heart, according to her website. "Everything I do is for the people, and for the culture."
Since committing herself social change through a poetry career, Hanesworth has performed more than 130 times in Buffalo, New York City, Baltimore and Toronto, among other cities. She published a compilation of her poems and observations on Black issues, "They Say I Talk White."
Hanesworth was named to Buffalo Business First's 30 under 30 list, which recognizes young, high-achieving professionals at work and within their communities, in 2020.
A Buffalo native, Hanesworth earned a B.A. in Criminal Justice in 2015 and is a graduate of Buffalo Academy for the Visual and Performing Arts. She is also a teaching artist at Ujima Company, Inc., a multi-ethnic and multicultural professional theatre, where she conducts poetry workshops with teens.
The poetry performance, which is free and open to the public, is sponsored by the Mary Louise White Fund of the Fredonia College Foundation.