Class of 2023 described as the 'strongest, most impactful' class in a long time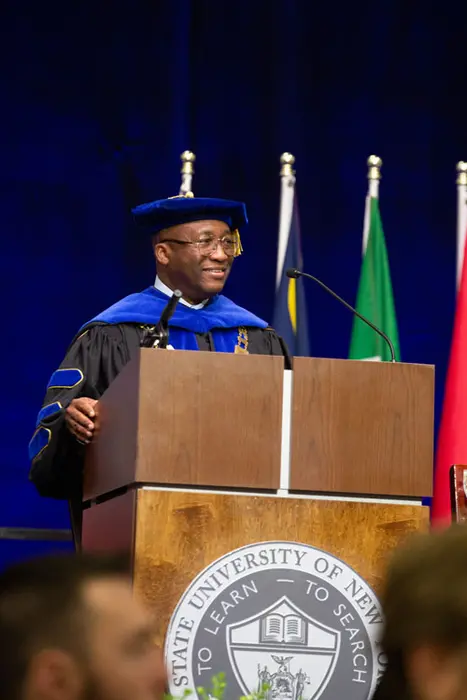 SUNY Fredonia celebrates Commencement for students whose college journey began, ended during pandemic
The Class of 2023 at the State University of New York at Fredonia was called "the strongest, most impactful graduating class that we have seen in a long time" during the university's 196th annual Commencement ceremony.
Graduates received congratulations from President Stephen H. Kolison Jr. as they were conferred with degrees at two nearly identical ceremonies, at 10 a.m. and 3 p.m. In all, more than 900 undergraduates, graduate students and advanced certificate recipients were eligible to participate.
Executive Vice President and Provost David Starrett presided over the ceremonies, joined by a processional party which included members of the University Cabinet, members of the College Council, Senior Class President Hannah Barden, and other campus and community dignitaries. Dr. Starrett congratulated all of the graduates and families on their achievements, and thanked the campus employees who helped them reach this momentous occasion.
In his charge to the Class of 2023, President Kolison encouraged everyone to care for the welfare of others. "If you want to be truly successful in endeavors that involve others, then in your interactions with people, treat them with empathy, dignity, integrity, and grace."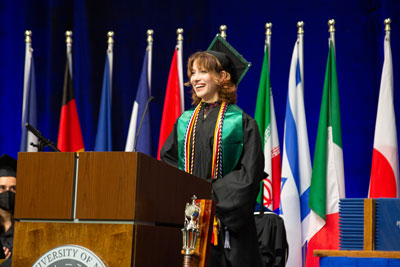 Senior Class President Hannah Barden reflected on the collective experience of the graduating class. "As I look out today, I see an accomplished group—many of whom have gotten to know each other, and many of whom remain relative strangers. And yet, we have all influenced one another's particular college experiences in some way," said Barden, a native of Ithaca, N.Y., who graduated with a Bachelor of Science degree Communication-Communication Studies, Summa Cum Laude, with minors in Environmental Studies and Psychology.
 "I encourage everyone to remember the moments of positivity that we have found with those around us, and to remember that we can contribute a moment of positivity for others."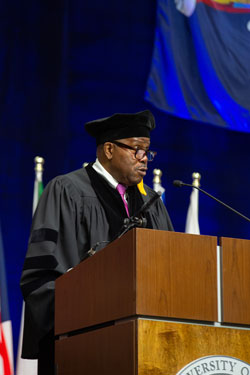 The campus welcomed two alumni as Commencement speakers for the dual ceremonies. In the morning ceremony, the Honorable James A.W. McLeod ('71), who served for many years as a judge in the Buffalo City Court in the Eighth Judicial District of New York, told the Class of 2023 that while attending SUNY Fredonia they were packing as if for a journey – with books, knowledge, memories, compassion and kindness. He urged them to "always keep what you've been packing nearby." He noted  that SUNY Fredonia "helped me to prepare for all that I have accomplished so far in my life." He also asked the students to remember the faculty and staff, parents, grandparents, and even neighbors, who shared words of encouragement. Judge McLeod told the students to "lift those behind you" and "go with peace, go with courage, and go with determination."
In the afternoon ceremony, the Honorable Lynne (Bona) Ruda ('07, '09), who is the current Mayor of the village of Lancaster, N.Y., reflected on the determination and sacrifice of the Class of 2023 by continuing their education amidst a global pandemic. "The fact that you sit here today…means that you have already defied the odds," Ms. Ruda said. "You have proven your resilience, your determination, and your grit.  Because you experienced attending college during a pandemic, you have built a skill set beyond what most college graduates end up with, which includes an incredible ability to cope with change, to deal with the unknown, to handle grief, and fear. I predict that the Class of 2023 will take the skills that they have gained through the challenges and tragedies that we have experienced and be the strongest, most impactful graduating class that we have seen in a long time."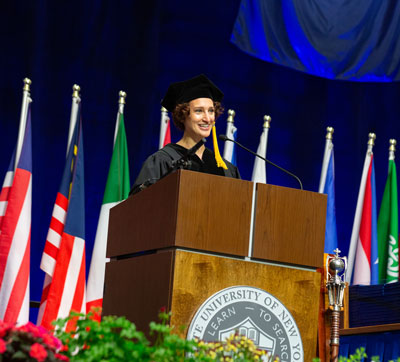 Other highlights included the awarding of the Lanford Presidential Prize from the Oscar and Esther Lanford Endowment of the Fredonia College Foundation. This year's recipient, Alyssa Bump, of Cuba, N.Y., graduated with concurrent degrees including a Bachelor of Arts in Communication-Journalism and Bachelor of Science in Communication-Public Relations with a minor in English, Summa Cum Laude.
The National Anthem was performed in the morning ceremony by Kayla Sorensen, who received a Bachelor of Music, Music Education, Summa Cum Laude. In the afternoon it was performed by Rebecca Hammack, who graduated with a Bachelor of Fine Arts, Musical Theatre, Magna Cum Laude. Student performance groups included the Commencement Wind Ensemble/Commencement Wind Orchestra, under the direction of Dr. Paula Holcomb, and the Fredonia Chamber Choir under the direction of Vernon E. Huff.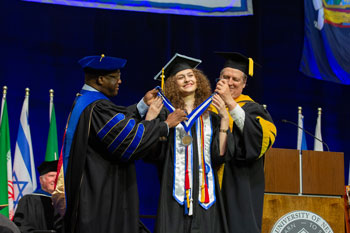 Faculty Marshals for the morning ceremony were SUNY Distinguished Teaching Professor Paul Mockovak of the Department of Theatre and SUNY Distinguished Teaching Professor Andrea Zevenbergen of the Department of Psychology.
Faculty Marshals for the afternoon ceremony were Professor Natalie Gerber of the Department of English and SUNY Distinguished Teaching Professor Ted Lee of the Department of Biology.
Student Marshals are selected for their academic performance and service to campus. Morning ceremony marshals were Ashley G. Anderson, Iaisha Babb-Essien, Cayley Cybulska, Jessica Elyse Falco, Holly Anne Fazio, Erin Grace Kelly and Rachel Lee Kempf. The afternoon marshals were Olivia Clamp, Ian Alexander Dague, Julia Gero, Kampbell Joseph Howard and Sadie E. Olrogg.
Professor Barry Kilpatrick, who is also Assistant Director of the School of Music, was the Mace Bearer for the morning ceremony and Professor Mojtaba Seyedian, Professor of Business Administration and Chair of the Department of Economics in the afternoon. They represent the most senior faculty members in terms of service.