Faculty panel discussion to check in on Biden Administration
As it approaches its three-month anniversary, President Joe Biden's administration will be examined by three faculty members in a virtual panel discussion on Wednesday, April 14, at 11:30 a.m.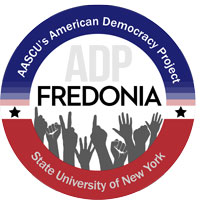 Serving on the panel will be Interim Associate Dean College of Liberal Arts and Sciences, Chair of the departments of History and World Languages and Cultures and Department of History Professor David Kinkela, Department of Communication Assistant Professor Angela McGowan-Kirsch and Department of Politics and International Affairs Chair and Professor David Rankin.
Particular attention will be given to communication, leadership and the media in terms of the Biden Administration.
Observations by Dr. Rankin will focus on White House media management, communication styles and strategies of the Biden presidency and administration, relative to the Trump White House, and issues such as COVID-19 and the election.
The role of expertise as a guiding principle of the Biden Administration's approach to governance, which is in contrast to the previous administration that valued "outsider" knowledge, will be discussed by Dr. Kinkela.
Dr. McGowan-Kirsch anticipates touching on all three discussion topics – communication, media and leadership – through a look at the four women who handle communication and media for the administration.
"Particularly because of the historical nature of the Biden/Harris campaign and administration, it's important to look at the communication and leadership skills of politicians in general, and Biden and Harris in particular, as well as the role of the media in covering political figures," said Office of Diversity, Equity and Inclusion Interim Chief Officer Saundra Liggins.
The Zoom discussion, hosted by the American Democracy project and the Diversity, Equity and Inclusion Council, is free. Registration can be completed online. After registering, a confirmation email containing information about joining the meeting will be sent.