Fredonia grad Harrington part of GRAMMY nominated album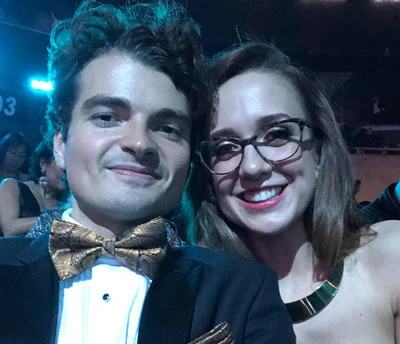 Music enthusiasts can look forward to hearing more from Patrick Harrington, a 2013 Fredonia graduate, following the GRAMMY Award nomination received by his band, Victor Wainwright and the Train.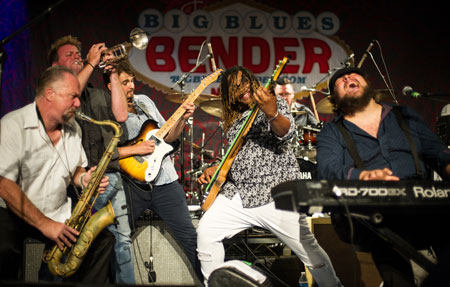 Being acknowledged at the 61st annual GRAMMY Awards for their inaugural album was a complete surprise to the band. "It wasn't on any of our radar as far as being a possibility," Mr. Harrington remembers. "When we made it, we just wanted to make a good record of music that was true to all of our hearts. To be recognized on the level of the GRAMMYS for making a completely honest record like this is such a high honor."
The gold-plated statue for Best Contemporary Blues Album went to Fantastic Negrito's "Please Don't Be Dead," but Buffalo News music critic Jeff Miers figures the bump to Wainwright and the band's profile will be "notable."
Remarkable comes close to describing the hurdles band members had to clear so they could attend the actual ceremony. Victor Wainwright and the Train was in the midst of a gig on the Legendary Rhythm and Blues Cruise with 20 other bands that week in the Caribbean, and their ship docked in Fort Lauderdale, Fla., on the morning of the GRAMMYs. The lone flight to Los Angeles landed just 30 minutes before the GRAMMYs began. The Wainwright contingent arrived 45 minutes late, but just in time to hear their category being announced.
Harrington's fiancée, Lydia Biernat, who received a B.S. in Business Administration: Marketing at Fredonia in 2014, joined all four band members and their producer at the GRAMMYs.
"It was so hectic and crazy but wow, what an experience," recalled Harrington, who has a B.S. in Business Administration, with a concentration in Music Industry. "We had a great time partying at the GRAMMYs and at the after-parties, etc., and then the very next morning all caught a flight back to Florida to finish our tour out. Crazy!"
The album's cover art depicts a wildly modified steam locomotive – sprouting assorted musical instruments and a flaring horn of an old-style gramophone. The record hasn't exactly slid – or chugged – under the radar. "Money," one of 12 original tracks, has garnered more than 4.8 million views, according to the band's website.
"Funky, it's rockin', it's bluesy roots music, with genre bending styles" is how a reviewer describes Harrington's band in Rock and Blues Muse, an online publication devoted to blues, blues-rock, rock, southern rock and roots music, with a special emphasis on guitar players. Each musician offers off-the-charts performances, the writer observed, including Harrington, "the fantastic guitarist."
Harrington, who alternates between Fender Stratocaster and Fender Telecaster guitars, describes his style as a "mixed bag" that pays homage to all his guitar heroes. "I've stolen from all the greats, but I feel I can't help but have my own unique voice."
Harrington learned to play guitar at the age of 13 from Eric Koch, owner of the renowned Red House Music Shoop in Newfane. A strong mentor, Mr. Koch introduced the guitar-obsessed youngster to veteran musicians and alerted him to dangers that can derail a musical career. In a Buffalo News tribute to Koch, columnist Sean Kirst wrote that Harrington dedicated the Wainwright album, which the Fredonia grad considers to be the "first real, serious record I have been a part of," to Koch.
After graduating from Fredonia, Harrington worked day jobs and played nights in several Buffalo bands, developing a reputation as an up-and-coming musician. Along the way, he played with many of his heroes, including Gary Clark Jr. and Bobby Whitlock of Derek and the Dominos/George Harrison fame, according to Kirst's newspaper column. It was through his work with the band Freightrain that Harrington hooked up with Mr. Wainwright, an award winning musician and producer, in 2016.
Harrington credits Fredonia's Music Industry program for giving him the mindset to work hard and push himself outside of his comfort zone. He said the inspiration and work ethic exhibited by fellow Music Industry students propelled him to rise to do his best work.
The band maintains a rigorous touring schedule, playing 150-200 dates on the road a year, and is working on their second album. "Very excited about the new music, and looking forward to making another record with this same team as was on our first," Harrington said.
Now based in Memphis, Tenn., Harrington will return to his Western New York roots when Victor Wainwright and The Train performs at Buffalo's legendary Tralf Music Hall on Thursday, March 28.
"It's always so fun to come back home and play for all my family and friends," Harrington said. "Looking forward to getting back to the Tralf and rocking out for my home town."