Fredonia Jazz program wins DownBeat magazine's 'Outstanding Performance' award, again
It's widely considered one of the most sought-after honors in DownBeat magazine's Student Music Awards competition, but that didn't prevent the Jazz Studies program at SUNY Fredonia from winning its second award for Outstanding Performance by a College Large Jazz Ensemble.
Assistant Professor Nick Weiser directs the Fredonia Jazz Flextet, an ensemble with different instrument combinations and up to 12 musicians, that won the top award in the Undergraduate College division for 2022 – just three years after his New Jazz Ensemble received the same award.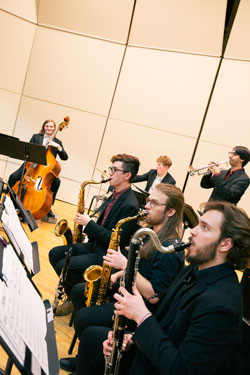 "It's always thrilling to win an award of this magnitude, but winning it a second time tells me that what we're doing here is working. We have students who have bought into what the jazz program is about, students who are committed to a high level of music-making, and we're seeing real success," Dr. Weiser remarked.
School of Music Interim Director Daniel Ihasz concurred, saying that the second award for Fredonia's jazz groups "speaks so highly of our students' excellence and diligence! These students are led by Dr. Nick Weiser, a fantastic musician who continually exudes excellence and inspires students to the highest level of achievement.
"This speaks well not only of Dr. Weiser, but the students in the Jazz program, the School of Music and the entire university," Mr. Ihasz noted.
"This speaks well not only of Dr. Weiser, but the students in the Jazz program, the School of Music and the entire university." Interim Director of the School of Music Daniel Ihasz
"When you consider that these awards typically go to major programs, that we won two in such a short span gives the program added credibility, and it's starting to show a trend of excellence in our music-making, in our jazz program," Weiser commented. Moreover, winning a second time demonstrates that the first award was not an anomaly, he added.
"Every major jazz program in the country has a flagship large jazz ensemble, so it's one of the most competitive categories," remarked Weiser, who has directed the Jazz Studies program since 2017. The Fredonia group was up against prestigious conservatories and universities in the blindly judged competition, so results cannot be influenced by histories or reputations of iconic jazz programs.
Amazing was how Will North, a junior majoring in Music Education and Jazz Studies, described the feeling of receiving this award following many weeks of hard work last semester. He said he's grateful for the opportunity to perform music like this all the time, and also thankful to Downbeat for the award to faculty and mentors at Fredonia.
"We would not be able to create music at this high of a caliber without them," North said.
Weiser devised the Flextet – a term not regularly encountered in the jazz world – when he recognized that rehearsing a full 18-piece jazz ensemble wasn't an option due to COVID-19 restrictions based on room sizes and the number of people who could be in one place at any given time. What he ultimately created was a pool of musicians and a repertoire of pieces in variable instrumentations – from seven to 12 musicians – based on the different musical selections. It allowed Weiser to explore unique repertoire and include student musicians, such as violinists and additional woodwind players, who might not otherwise be involved in his jazz program.
"Flextet comes from the flexibility in instrumentation and the number of players at any given time. That was the impetus behind the naming of the group," Weiser explained.
"We still kept the aesthetic principles of the New Jazz Ensemble, which won the award in 2019," Weiser said, and like that ensemble, the Flextet presents music by female composers, composers of color, or otherwise underrepresented composers.
The selections Weiser submitted to the magazine were performed in a Fall 2021 concert on campus in Rosch Recital Hall.
"I typically listen for the energy of the group, the intensity with which they communicate the material and, obviously, quality improvisation, which plays a large part in any jazz ensemble," Weiser explained, "and I'm looking for excellence in each of those areas, as is DownBeat."