Fredonia students chalk up big-league internship experience at Super Bowl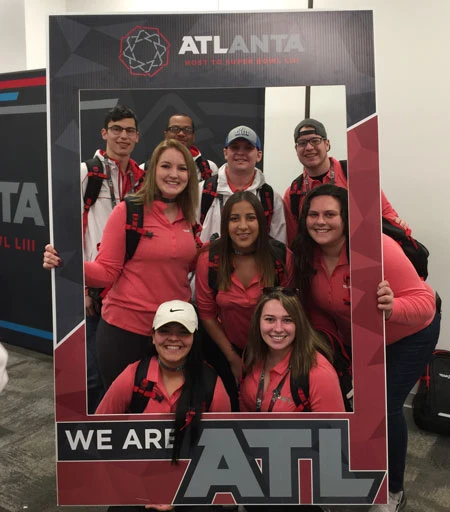 In Super Bowl jargon, it's "one for the thumb" for Fredonia!
That's the number of times Fredonia students have scored real-world experience in the national sports industry through internships at the Super Bowl, undoubtedly the premier sporting event in the world. Super Bowl LIII, in which New England defeated Los Angeles, 13-3, on Feb. 3, brings the Fredonia tally to five.
Severe Arctic-like temperatures and heavy snow in Western New York sacked the scheduled Jan. 30 flight out of Buffalo, but this year's contingent made alternate travel arrangements and was able to make the most of their three days in delightfully warm Atlanta, home of the Mercedes-Benz Stadium, where the game was played.
The 2019 Super Bowl internship went well and the students, all majoring in Sport Management, learned a lot, reported Penny Hite, assistant professor and coordinator of the Sport Management program. This year's Fredonia contingent included: Joseph Alessi, Xavier Arjune, Justin Axelrod, Quinn Bankoski, Elaina Brownell, Ryan Cervola, Kayla Connolly, Soban Faisal, Brandon Haase, Ryan Langhorne, Kaitlyn Melendez, Zachary Sierra, Kaitlyn Valenza, Christian Villafane and Logan Warren.
"This is the fifth year that we've gone, and it seems like each time the experience gets better and better," added Jason Becker, adjunct lecturer. "We were still able to do two events that we were assigned to on Friday and Saturday. It was a great experience, and the weather was great."
Students served as "wayfinders" at Super Bowl Live, a showcase of assorted attractions and events designed to enhance the fan experience, held in Centennial Park. They also worked at a large indoor venue in the same capacity. This is always a critically important assignment, given the tens of thousands of fans the game attracts every year. Students gave directions to interactive games, pep rallies, contests, concerts and separate parties for fans of both teams.
"During the event we directed traffic and helped make sure the fans had a great experience. We also did some work in the volunteer headquarters where we welcomed people to the area and helped to make sure everyone knew where to go," explained Ms. Bankoski, a junior from Dunkirk. "We met a lot of people from a lot of different places!"
In some years, Mr. Becker noted, students see famous people – celebrities, athletes, sports executives and nationally known business leaders.
The highlight of the trip for Becker, who's been on all five Super Bowl excursions, is always seeing students have an experience at a national event that they can list on their resume and describe in job interviews. Students take what they've learned in course work in areas such as event planning, marketing/promotion, sales and strategic planning and apply it at a national sporting event.
"Prospective employers have a sense that Fredonia students have been on a pretty big stage and know something of how an event of this magnitude is run," Hite said.
Students also gain valuable experience working in huge crowd settings, while staying calm and thinking quickly, or "doing things on the fly," Bankoski noted, when assigned locations are changed in the middle of a work shift.
"Seeing it all come together at a major sporting event is truly rewarding for them," added Becker, who accompanied the students along with Hite. "They really enjoyed it. It's always great to see students get this experience."
Students typically earn 1 internship credit hour for SPMG 400, Super Bowl Host Committee Intern. They gain knowledge in the processes that are involved in the promotion and marketing of grand events such as the Super Bowl, added Tracy Collingwood, director of Engagement and Career Development.
Time is also made available for sightseeing in the host city. Students gathered at their hotel on Sunday evening to take in the game on a big-screen television.
Fredonia has sent students to Super Bowl festivities five times in the last seven years, visiting nearly every part of the U.S. along the way. Their first Super Bowl was in 2013, when the game was played at Mercedes-Benz Superdome in New Orleans. After a two-year hiatus, Fredonia returned to big game festivities in Santa Clara, Calif., home of Levi's Stadium, in 2016, and went every year thereafter. These included Santa Clara, NRG Stadium in Houston and U.S. Bank Stadium in Minneapolis.
"All indications are that students really enjoyed it," Becker said. "When I asked students in one of my classes who wanted to go next year, all hands went up."