Good Neighbor Award helps increase the value of a college degree for Pennsylvania and Ohio students
Students discovering lower tuition and increased opportunities at a nationally-recognized university just over the New York State border
High school students who desire a nurturing environment on their path to success are finding a university in the southwest corner of New York State that is more affordable than the largest public institutions in Ohio and Pennsylvania.
SUNY Fredonia's "Good Neighbor" Award continues to grow and expand its reach. Launched in 2019, Fredonia's out-of-state tuition rate automatically discounts $6,000 for Ohio and Pennsylvania residents, which means tuition at SUNY Fredonia is $10,980 a year; an amount that is thousands of dollars less than public universities in Pennsylvania and Ohio.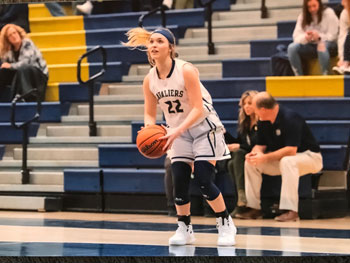 "College tuition, room and board and everything on top of that can be extremely expensive, said student Hannah Potter of Leechburg, Pa. "Out-of-state tuition is even more than that, which can make it hard for some students to attend a school out of state. Luckily for me, Fredonia was the best fit for me academically and athletically and the Good Neighbor Award really took a load off of me and my family's shoulder financially. This is an amazing program that they offer."
"When searching for an exceptional Music Education program, SUNY Fredonia was at the top of the list," said student Emma Rosberil of Broadview Heights, Ohio. "However, the out-of-state tuition was a hurdle that was hard to justify. We were so grateful that the Good Neighbor scholarship was available for Ohio residents, which made it affordable for our family."
Not only is SUNY Fredonia a better value, but its beautiful 256-acre campus is conveniently situated south of Buffalo near the Lake Erie shore, making it a short drive for students in either state. Erie, Pa., is only one hour away, and Pittsburgh and Cleveland are just two-and-a-half hours away from the Fredonia campus.
"As the most western university in the SUNY system, Fredonia is easy to reach for our neighbors to the south and west," said SUNY Fredonia Director of Admissions Dana Bearer. "We are proud to welcome students from Pennsylvania and Ohio to enjoy a high-quality educational experience at an affordable rate."
To qualify, students must be enrolled at Fredonia as a full-time undergraduate student in the 2021-22 school year, be a resident of Pennsylvania or Ohio, and must maintain good standing with the university. First-year students are eligible to get the award for four years, and transfer students can receive the award for up to three years.
First-year students who are receiving the Good Neighbor Award are also considered for additional Academic index awards which can range from $1,000 - 5,000 depending on high school GPA. Interested residents can find out more about the Good Neighbor Award online at https://www.fredonia.edu/goodneighbor
Founded in 1826, Fredonia is among the most storied in the State University of New York system. It is home to the world-renowned School of Music and over 80 degree programs in the theatre and visual arts, natural and social sciences, education, business and liberal arts. Fredonia is known for its strong academic programs, attractive architecture and grounds, rich campus life, and commitment to student engagement and success. Fredonia is focused on ensuring that all students, utilizing knowledge developed through a broad range of intellectual experiences, will be: skilled, connected, creative and responsible global citizens and professionals.