GRAMMY awards go to SUNY Fredonia faculty and alumni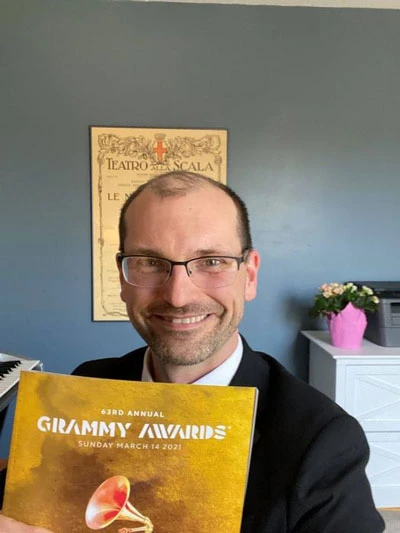 Fredonia School of Music faculty and several alumni were among the winners of 2021 GRAMMY awards presented March 14.
The Buffalo Philharmonic Orchestra, under the direction of JoAnn Falletta, and the Buffalo Philharmonic Chorus, prepared by the chorus' Music Director and School of Music faculty member Dr. Adam Luebke, received the GRAMMY for Best Choral Performance for the recording of Richard Danielpour's "The Passion of Yeshua." Bernd Gottinger, head of Fredonia's Sound Recording Technology program, was engineer. Gottinger was also nominated for a GRAMMY in the category of Best Engineered Album, Classical for his work on the "The Passion of Yeshua." 
Also featured on the recording were School of Music faculty instrumentalists including trumpet professor Alex Jokpii, who is BPO principal trumpet, and BPO principal trombone Jonathan Lombardo. Fredonia alumni were also members of the chorus.
Interim School of Music Director Daniel Ihasz noted, "I am so thrilled that such a great number of our Music faculty and alumni were recognized for their outstanding work by the GRAMMY Foundation. I am surrounded by amazing faculty artists/teachers. What a wonderful gift that they can share with our students and the entire region. Congratulations to the Buffalo Philharmonic and Buffalo Philharmonic Chorus, and our music faculty and alumni!"
The recording also featured the UCLA Chamber Singers, and additional nominees included James K. Bass of the Herb Alpert School of Music at UCLA. The five featured vocalists included Dr. Bass, J'Nai Bridges, Timothy Fallon, Kenneth Overton, Hila Plitmann and Matthew Worth.
In addition, the recording was nominated in the category of Best Contemporary Classical Composition.
Another big GRAMMY winner was Sound Recording Technology alumnus Randy Merrill, '97, of Sterling Sound, who was Senior Mastering Engineer on Taylor Swift's "Folklore," named Album of the Year, and "Hyperspace," which was named Best Engineered Album, Non Classical.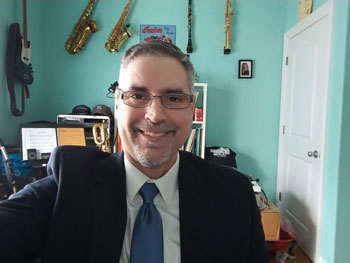 Alumnus Charlie Post, '98, who holds Fredonia degrees in Sound Recording Technology and Music-Applied, received a GRAMMY with engineer David Frost in the category of Best Engineered Album, Classical, for "Shostakovich: Symphony No. 13, 'Babi Yar'" with Silas Brown as mastering engineer, conductor Riccardo Muti and the Chicago Symphony Orchestra.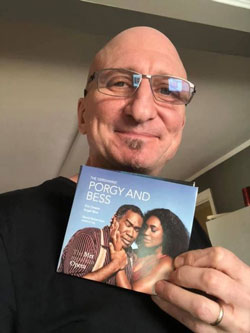 John Kerswell, '88, another Sound Recording Technology alumnus, received a GRAMMY with David Frost as engineers in the category of Best Opera Recording for "Gershwin: Porgy and Bess" a Metropolitan Opera production featuring conductor David Robertson, with Frederick Ballentine, Angel Blue, Denyce Graves, Latonia Moore, Eric Owens, the Metropolitan Opera Orchestra and the Metropolitan Opera Chorus.
In the contributing artists realm, Department of Communication Professor Emeritus Dan Berggren reported that School of Music alumna Lisa Brigantino, '86, (B.A. Music Theory) '88. (M.M. Music Theory/Composition), played djembe on the track, "Lioness," and guitar on the track, "Mother Earth," on "All the Ladies" by Joanie Leeds, which received the GRAMMY for Best Childrens' Album.
School of Music Music Education alumna Lynne (Bona) Ruda, who teaches at Lancaster (N.Y.) Central School, was one of 10 finalists nationally for the 2021 Music Educator award presented by the Recording Academy and GRAMMY Museum. This is the second consecutive year she was a finalist for the prestigious award. Mrs. Ruda earned bachelor's and master's degrees from Fredonia in 2007 and 2009, both in Music Education, and as a cellist earned the coveted Performer's Certificate from the School of Music. Bringing more recognition to Fredonia, School of Music faculty Drs. Nick Weiser and Vernon Huff were named Quarterfinalists for the 2021 award.
Additional Fredonia alumni Quarterfinalists from schools in New York State include Lawrence Dubill, '90, who teaches at Hamburg (N.Y.) High School, and Matt Pendrak, '01, who teaches at Amherst (N.Y.) Central High School. Legacy applicants for the 2021 award include Elisabeth "Betsy" Stambach-Fuller, '07, who teaches at South Glens Falls High School, and Ryan Mack, who teaches at P.S.52K Sheepshead Bay.
The Fredonia School of Music's Music Education program currently has a 100 percent placement of its graduates.
Fredonia attendee and current Sound Recording Technology faculty member Dave Fridmann's work on the band Haim's album "Women In Music Pt. III," including the song "The Steps," was nominated for a GRAMMY in the category of Best Rock Performance. The album was also nominated for Best Album of the Year.