Halloween creativity scares up campus gift cards
Two students majoring in Visual Arts and New Media: Animation and Illustration pocketed campus gift certificates from President Stephen Kolison Jr. for their creativity in "The Halloween I Skipped, Totally" promotion.
Lindsey Bowman, a senior from Bergen, authored text describing how staying away from other people in the best ways is protecting the health of others and supporting them in contactless ways. She has enjoyed the community and best of all, her on-campus family circle, "whose cheery attitude and sensitive demeanors towards this 'stay in' Halloween make this a worthwhile experience to end October with."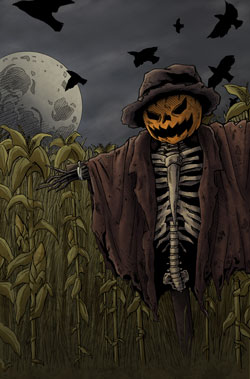 Devon Kennedy, a first-year student from Endicott, created a Halloween illustration featuring a skeleton scarecrow, with a carved pumpkin head highlighted by a fear-inducing smile, ominously mounted in a darkened cornfield.