Hefner appointed Interim President of Fredonia by SUNY Board of Trustees
The State University of New York Board of Trustees today announced several leadership and finance actions, including the appointed interim presidents to the State University of New York at Fredonia and Stony Brook University, acting president to Fulton-Montgomery Community College, and a permanent dean of New York State School of Industrial and Labor Relations at Cornell University.
State University of New York at Fredonia Interim President, Dr. Dennis L. Hefner
Dr. Hefner's appointment as Interim President is effective July 1. He has a distinguished record of service at SUNY, including as former President of Fredonia and Interim President at SUNY Potsdam. Under his leadership, Fredonia expanded enrollment by 20 percent, improved SAT scores by nearly 90 points, successfully completed two capital campaigns, brought external grant funding to an all-time high, and implemented New York's first four-year graduation guarantee program.
Dr. Hefner was appointed President of Fredonia in late 1996 by the SUNY Board of Trustees, assuming office in mid-January 1997, and serving until 2012. He was the longest serving president in the history of the modern Fredonia's campus.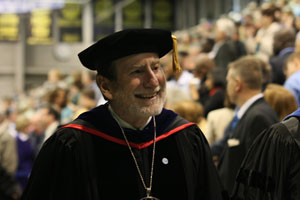 Prior to coming to Fredonia, Dr. Hefner served as Senior Vice Chancellor for Academic Affairs in the Minnesota State Colleges and Universities system. He spent almost two decades as an educator and administrator in the California State University system. At California State University at Chico, his undergraduate alma mater, Dr. Hefner rose steadily through the ranks of academic and administrative leadership, and eventually was named Dean of the College of Agricultural and Human Environmental Sciences. In 1990, he was selected by the CSU San Bernardino campus as its Vice President for Academic Affairs, which included five months of leave to establish the new CSU campus at Monterey Bay.
Dr. Hefner earned a bachelor's degree in economics from CSU at Chico. He holds master's and doctoral degrees in economics from Washington State University. Before entering academia in 1972, he was an economist and research analyst for the drug studies branch of the former U.S. Department of Health, Education and Welfare in Washington, D.C.
Dr. Hefner directed a period of tremendous growth at Fredonia, highlighted by undergraduate enrollment growth; a doubling of its graduate students; a tripling of its international students; and a 600 percent increase in the diversity of its student body.
Additionally, he in aggregate secured $360 million, from both state and non-state sources, for capital construction and renovation projects, including the campus' Natatorium, University Commons, Juliet J. Rosch Recital Hall, University Stadium, Campus and Community Children's Center, Business Technology Incubator, and the Robert and Marilyn Maytum Music Rehearsal Halls, as well as the $60 million Science Center. Notable renovations include the campus' iconic Maytum Hall, Williams Center and the $40 million expansion of the Michael C. Rockefeller Arts Center.

Dr. Hefner's tenure also included the creation of Fredonia's College of Education, School of Business and Center for Multicultural Affairs. He also oversaw the completion of two major capital campaigns, which helped grow the endowment value of the Fredonia College Foundation by more than 400 percent.

President Hefner is well-respected across the state and in the SUNY Central offices in Albany. In particular, he was recognized as one of the SUNY system's most tireless leaders in the advocacy for a rational tuition plan.
Upon his retirement as Fredonia's President, Dr. Hefner was appointed SUNY President Emeritus and a University Professor, working as a part-time, special consultant on various assignments for the SUNY System.
Stony Brook University Interim President, Dr. Michael Alan Bernstein
Dr. Bernstein's appointment as interim president of Stony Brook University is effective on August 1, 2019. He has served as provost and senior vice president for Academic Affairs, as well as professor of Business, Economics, and History at Stony Brook University since 2016. Prior to that, he held academic and administrative posts at Tulane University, the University of California, San Diego, Princeton University, and served as a lecturer/instructor at Yale University Mills College and the University of Cambridge. Dr. Bernstein has also worked as a staff economist for the United States Department of Energy.
He holds a doctorate in economics, and a masters of arts and bachelor of arts all from Yale University.
Fulton-Montgomery Community College Acting President, Dr. Gregory Truckenmiller
Dr. Truckenmiller's appointment is effective August 1, 2019. Over the past 19 years, he has served in various high profile leadership capacities at Fulton-Montgomery Community College. He is currently the provost and vice president for Academic Affairs, and has held that position since 2009. Additionally, Dr. Truckenmiller has served as acting provost and vice president for Academic Affairs; dean of Arts & Sciences; acting vice president and dean of the college; Interim Dean for Academic Affairs; among other roles.
He earned both his doctorate in Higher Education and his bachelor of arts in History from the University of Iowa.
Dean of New York State School of Industrial and Labor Relations at Cornell University, Dr. Alexander J. S. Colvin
Dr. Colvin has been interim dean of the school since 2018 and transitions as the permanent dean effective today by the Board's appointment. Previously, he served at the school as associate dean for academic affairs, diversity, and faculty development and as the Martin F. Scheinman Professor of Conflict Resolution. He is also an associate member of the Cornell University law faculty. Dr. Colvin joined the New York State School of Industrial and Labor Relations in 2008 and previously served as an associate professor, professor and chair of the department of labor relations, law and history.
He received a doctorate from the New York State School of Industrial and Labor Relations at Cornell University, an M.I.R. from the Centre for Industrial Relations at the University of Toronto, a juris doctorate from the University of Toronto, and a bachelor of science from the University of Toronto.
SUNY Chancellor has assembled a search committee to recruit a permanent president at each campus, as well as for Niagara County Community College following the Board of Trustees' reappointment of Dr. William Murabito as interim president.
Additionally, the Board of Trustees took action to fund investment in student services, such as advising and mental health, graduate student stipends, and support ongoing operations including its digital learning infrastructure by approving minimal annual increases to tuition and fees. At state-operated campuses the approved tuition and fee increase is $225, below the national average of $270, and at its four university centers, the increase is $350, which remains competitive among the 60 member institutions of the Association of American Universities, leaders in research and innovation in the United States and Canada.
With these changes, the cost of tuition and fees at SUNY is still lower than 28 other state public higher education institutions. In addition, 16 SUNY campuses are ranked in the top 10 percent nationwide for their success in achieving student social mobility, which measures how a college helps economically disadvantaged students graduate into good paying jobs. Six SUNY campuses, including the four university centers, are also in the top 10 percent for upward mobility as the fraction of its students who came from the bottom 20 percent of the income distribution end up in the top 20 percent.
Despite these modest increases, existing State (Tuition Assistance Program and Excelsior Scholarship) and SUNY (SUNY TAP) programs are expected to help mitigate additional costs to lower income students, while the Board has directed SUNY to work with campuses to ensure that increases do not impact accessibility and that campuses remain an affordable and high quality education for New Yorkers.
Under current State Education Law, SUNY's Board of Trustees is authorized to increase resident undergraduate tuition rates at its state-operated campuses by $200, which it has voted to do so for the 2019-20 academic year. This increase does not impact students from low income households receiving full aid from TAP or Excelsior Scholarship recipients whose tuition is set at 2016-2017 levels.
The board also approved the ability for non-University Center State-operated campuses to increase fees at all campuses by $25 and an increase of $150 at SUNY's four research university centers. These increases were approved to enable all campuses to support student services and ongoing operations including support for graduate student stipends, investing in digital learning infrastructure for classroom and research laboratories and funding for mental health services.