Igoe joins BBA Hall of Fame
Department of Communication Associate Professor Mike Igoe was inducted into the Buffalo Broadcasters Association Hall of Fame at a ceremony held on Nov. 4 at the Admiral Room in Buffalo.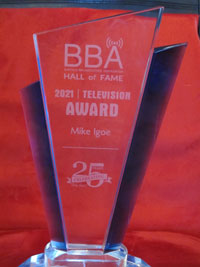 The event marked the 25th anniversary of the non-profit organization dedicated to preserving and promoting Western New York's rich TV and radio history as well as saluting and bringing attention to quality broadcasting. With eight new members, the 2021 Hall of Fame class is the largest in BBA history.
Mr. Igoe compiled a 30-year career as a television consumer reporter that included 20 years spent at WGRZ-TV in Buffalo. He previously worked at KARE-TV in Minneapolis/St. Paul, Minn., and WNEP-TV in Wilkes-Barre/Scranton, Pa.
During his time in the media Igoe earned a number of awards for his work, including several from the Associated Press. He was also actively involved in a number of community causes including 30 years of hosting telethons and participating in year-round fundraising activities for the Muscular Dystrophy Association.
Igoe, author of several books and board member of the BBA, is also an attorney and admitted to the New York State Bar Association.