Igoe offers career advice to Chinese students in virtual talk
Students enrolled at Wenzhou-Kean University in China were recently treated to a comprehensive virtual lecture, "Careers in Media," by Department of Communication Associate Professor Mike Igoe. The college's English Department praised him for sharing his professional experience – both in the media and academia – to engage the largely student audience.
Wenzhou-Kean University is modeled after an American-style higher education institution where English is the primary method of instruction for non-native speakers.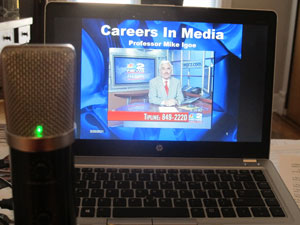 Mr. Igoe employed his humorous tone, extensive experience in the media and practical advice to connect with some 50 WKU students who packed a lecture hall for the March 24 Zoom lecture. He specifically advised them to fully utilize their undergraduate years to prepare for a career in media.
The number of students at the lecture was impressive, as attendance was voluntary and it was held in the evening, Igoe noted, "so to get that type of attendance indicates they were interested in the subject matter."
In today's era of media convergence, students should develop skills on multiple platforms, understand their interplay and learn as much as they can about a lot of things, Igoe commented. Content that students create in a class can be utilized to demonstrate the acquisition of certain skills to a potential employer.
The importance of internships and English language skills was also stressed by Igoe. He shared his own students' internship project, publishing the Igoe Digest, which originated in his Foundations in Journalism class, as well as his daughter's internship which helped her land a job as a television reporter.
A resume should contain "stuff," Igoe advised the students, that includes an inventory of specific skills and examples of media-oriented work. Of course, he shares some of the same information about building portfolios with his Fredonia students.
"One of the things the Chinese students mentioned to me is that their classes often don't provide the opportunity to develop practical materials. In my lecture I told them to develop their own," Igoe said. "That's where Igoe's Digest comes in. I used it to show (what) the Chinese students could do on their own."
Igoe added, "In all my classes I stress the importance of getting internships, developing work product to show a potential employer and developing a resume which 'showcases' you."
Dr. Elaine Ng, a member of WKU's English Department, shared student reactions she observed. "After the lecture, we could still hear the audience discussing the content of Professor Igoe's lecture on the way out. We believe that this talk on media careers inspired and impressed all the students and teachers who attended."
Igoe was scheduled to teach at Wenzhou-Kean during SUNY Fredonia's spring break in 2020, but the pandemic upended those plans. The school was so pleased with this lecture that it extended an invitation to him to physically visit the campus when it's feasible. Igoe has taught in China on three occasions: in Zhuhai, full-time, 2010 to 2013, as an associate professor of International Journalism; under the Fulbright program in Hong Kong for two weeks in 2016 and in Shenzhen, China, for two weeks in 2017 under another grant.