Isaacson named Chief of University Police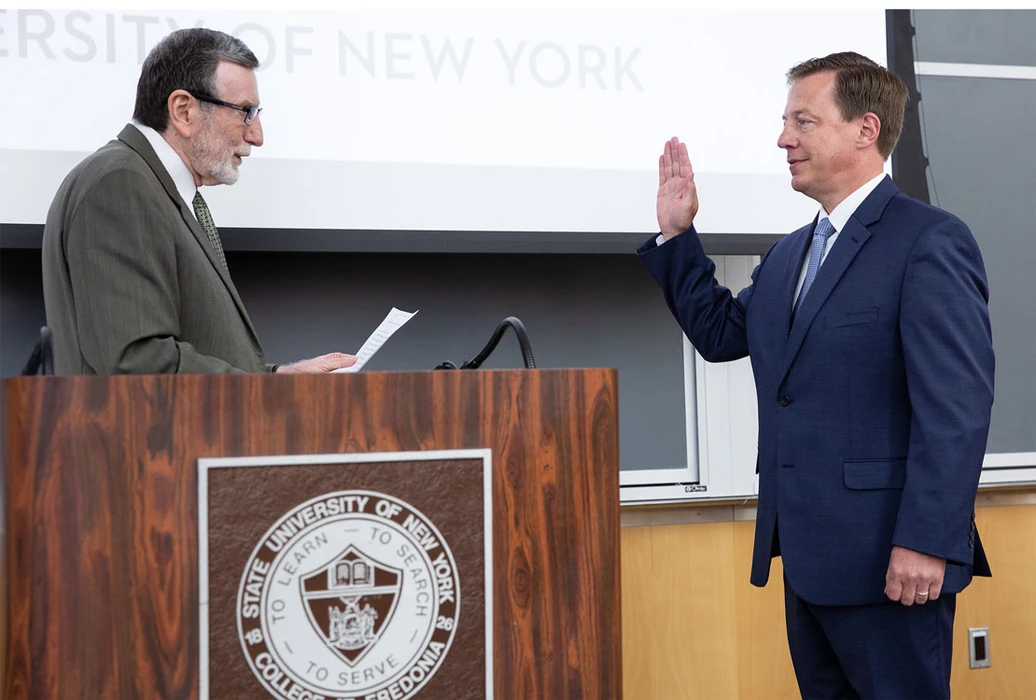 Brent S. Isaacson has been sworn in as the new Chief of University Police at Fredonia.
Mr. Isaacson previously served as a Special Agent for the Federal Bureau of Investigation, a position he has held since 1996. Working in the FBI's Jamestown office, he is responsible for leading all of the FBI's work in the three western counties of New York's southern tier and providing direction to the area's FBI employees who enforce federal law, ensure public safety and collect intelligence to protect the community from criminal and terrorist activity.
"I am thrilled to be joining the team at Fredonia as the next University Police Chief," said Isaacson. "The professionalism and talent of the police department is second to none, and I hope to continue the department's fine tradition of enhancing student success and safety. I am looking forward to working closely with students to ensure their experience at Fredonia is one of personal and academic success."
Isaacson is highly trained in preventing violence at universities and public schools, having performed threat assessments and developed threat mitigation plans for universities and public schools throughout the area. Isaacson is very familiar with the SUNY system and the Fredonia campus. He previously worked as an advisor to Fredonia's University Police on investigations and training, and has presented at the SUNY Chiefs of Police Association conference.
"I have spent much of my FBI career to enhance the safety of universities and K-12 schools," said Isaacson. "I hope to build on that work here at Fredonia by enhancing the already excellent community policing program and specialized training of the University Police."
"Brent's extensive law enforcement experience working with K-12 and college students made him an excellent choice for this position," said Dr. Cedric Howard, Fredonia's Vice President for Enrollment and Student Services. "His reputation in Western New York and across the country on threat assessment and intervention was most attractive to our campus. We are looking forward to Brent's leadership as he guides our outstanding University Police operation to new heights."
Before joining the FBI, Isaacson served as a commissioned officer in the United States Navy, where he completed a master's level program in nuclear engineering at the Bettis Atomic Power Laboratory. Additionally, he holds an M.A.in General Psychology from Northcentral University and a B.S. in Mechanical Engineering from the University of Rochester,
Isaacson succeeds Ann Burns, who retired after 37 years at the helm of Fredonia University Police.
"Chief Burns has been a role model for me, especially in her thoughtful and effective interactions with students," said Isaacson. "She has an amazing track record of pointing students in a positive direction using her kindness, empathy, and honesty to light the right way for students. She is a legend in law enforcement circles, having built the University Police at Fredonia from its early days into the highly capable, accredited agency of today."