Music Education students go the virtual mile for young musicians
During the Fall 2020 semester at Fredonia, Music Education majors enrolled in MUED 340: Introduction to Early Childhood Music Pedagogy and MUED 440: Applications of Early Childhood Music Pedagogy supported local preschools, daycares and homeschool groups by providing websites.
Preservice teachers enrolled in these courses produced content that they presented in newsletters about music development of young children and in virtual classrooms with developmentally appropriate music activities for engaging students in singing, playing instruments, moving, chanting and creating. Preservice teachers updated their websites each week with newsletters and new virtual classrooms to keep the content fresh for the parents and teachers.
Virtual classrooms included pictures on which teachers, parents and children could click to access live links to teaching videos that showed preservice teachers leading music activities.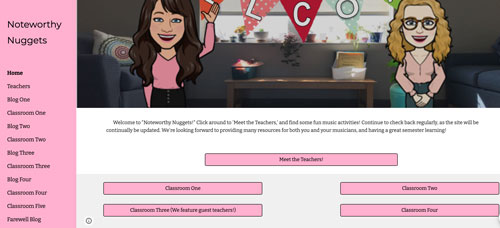 Participating schools included the Campus and Community Children's Center (both the Fredonia and Dunkirk locations), the Wheelock Early Childhood Center through the Fredonia Central School District, the Henry C. Youngerman Center Preschool based on campus and a local homeschool group.
The goal was to provide teachers and parents, who may not have access to the typical music experiences, with pedagogical materials to support the music development of very young musicians. Melissa Putney, a preschool teacher at Wheelock Early Childhood Center, said, "I admire all of the time, hard work, and dedication [they] have put into creating these virtual lessons for my students."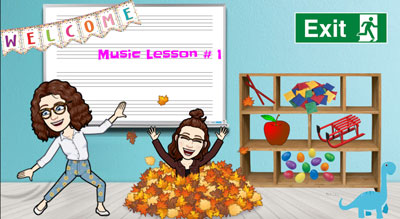 Fredonia alumna Ellen Foley, another preschool teacher at Wheelock, shared that she created music kits that included an egg shaker, a scarf, a beanbag and chopsticks for rhythm sticks. She used the kits along with the videos and said, "(the preservice teachers') lessons are well planned and well executed. (They) all have talent and good timing and enthusiasm that comes across well."
Preservice music teachers enrolled in MUED 340 and MUED 440 missed the opportunities they usually have during this course to interact face-to-face with the local teachers and their students. However, they reported that they gained a lot of valuable experience by creating these virtual materials to share with the teachers, students and their families. Many described growing in their technological pedagogical content knowledge.
Emily Taylor, a senior from Williamsville, shared, "I was surprised by how much I liked making the virtual classrooms. They took a lot of work, but I looked forward to filming them!" Emily Sammartino, a senior from Miller Place, said, "I learned how capable I am in terms of adapting. I never had to teach in this format and I was pleasantly surprised by how much I enjoyed it and how well it went."
Another student, Sarah Pearson, a senior from ­­­­­Hamil, projected ahead to her future classroom, "It was super helpful to learn how to make a website and design it. This can be used outside of this class in many different contexts. It's a great way to show off my future music department and have a place where parents can get information. It's also a great way to market my program and feature students' work."
Although this was not the semester the preservice teachers and their instructor, Associate Professor of Music Education Jill Reese, imagined, they certainly made the best of it and made amazing progress and contributions in the process.