New Communication students bond with juniors, seniors on field trip
Nearly three-dozen students new to Fredonia's Department of Communication were able to learn more about the program by gathering at Point Gratiot in Dunkirk with faculty and upper-class students at the department's inaugural field trip on Aug. 30.
The excursion, hosted by the department's new Ambassadors Program, is designed to assimilate new students into the communication department's culture. First-year and transfer students were able to meet faculty and get to know a mixture of Communication students, learning about academics and these students' perspectives on life and interests.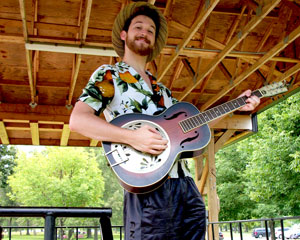 "It was a wonderful experience; the students were able to connect and learn about their department and feel like they were in a community," said Josue Petion, a senior majoring in Communication: Video Production and Business: Finance, and member of the Ambassadors Program.
"For the past year-and-a-half, students were online, going to school with Zoom and Google Meets and all that stuff, so students told me personally that they enjoyed coming out and engaging with others in person," Mr. Petion added.
Students spent nearly three hours on the beach and in an adjacent park, playing volleyball, old-fashioned games such as an egg and spoon race, as well as soccer, stickball and card games that included UNO, said Communication Associate Professor and Chair Roslin Smith.
Faculty including Department of History Adjunct Instructor and Ambassador Program Coordinator Elisabeth Davis, and Associate Professor Mike Igoe, Lecturer Branden Birmingham and Adjunct Lecturer Nicholas Smith, all of Communication, joined the festivities.
Juniors and seniors answered questions about their respective programs, described mentorship opportunities and gave guidance to the new students, Petion added, "thus creating a solid cohort."
The event went very well, reported Dr. Davis, who is also a retention coordinator in the College of Liberal Arts and Sciences. "The upper division ambassadors did an amazing job in creating a warm and welcoming atmosphere. The fear is always that there will be a freshman who is left out, however that did not happen," she explained.
"By the end of the day, everyone was involved in some activity or conversation. It really showed the FRED spirit and community. It was absolutely thrilling to be a part of," Davis said.
The Ambassadors Program will host monthly field trips throughout the semester for new students.