Noted author with deep family ties to slavery to speak at Fredonia
Edward Ball, who has written the forthcoming book "Life of a Klansman" and is best known as a commentator on race, is giving two public lectures and teaching two courses this semester, as a Williams Visiting Professor.
"Slaves in the Family," one of Mr. Ball's five non-fiction books, won the National Book Award for non-fiction and became a New York Times bestseller.
His writing has appeared in Smithsonian magazine, The New York Times, The Journal of Art, New York magazine, and The New York Times Book Review. He has been featured on numerous NPR broadcasts and appeared on national programs on television networks that include ABC, CBS, CNN, NBC and C-Span.
Ball's writing transcends a single field of study and demonstrates literary excellence and compelling narratives that explore significant issues in American history. He is interested in the story of "place," the history, the community and their biographies as told through the memories of ordinary people.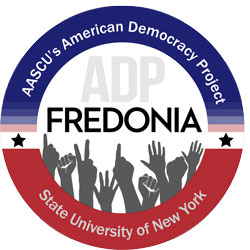 At a lecture at the Williams Center Room S204 on Wednesday, Oct. 2, at 2 p.m., Ball will discuss "Life of a Klansman," which explores the life of an ordinary carpenter who joined the movement of the Ku Klux Klan in New Orleans during the years after the Civil War. The talk is one part history, one part family memoir, because the carpenter and white supremacist was a member of Ball's own family.
Framed by the return of racial violence to the mainstream today, Ball will discuss the birth years of tribal white identity through the eyes of his great-grandfather, a man active in the founding generation of the Ku Klux Klan. According to Ball, whiteness has a history that is hidden, but it is a story relevant to the living. Dr. Angela McGowan-Kirsch, chair of lecture sponsor, the American Democracy Project, describes Ball's work as "offering gripping narratives that investigate noteworthy concerns in American history."
The lecture is also supported by the Williams Visiting Professorship of the Fredonia College Foundation. Light refreshments will be served.
At a Brown Bag Lecture on Wednesday, Nov. 6, at Williams Center Room S204, Ball will examine "Slaves in the Family," his inaugural book, published in 1998, that was also featured on the television show "Oprah." Generations of the Ball family operated rice farms and were major slaveholders for 175 years.
The College of Liberal Arts and Sciences sponsors the noontime Brown Bag series. A question-and-answer session follows each talk. Light refreshments will be served beginning at 11:30 a.m.
Both lectures are free and open to the public.
Ball is teaching two courses at Fredonia this semester: HONORS 302 Whiteness and White Supremacy and ENG 363 Creative Non-Fiction.